100-Plus Pound Exotic Tortoise Discovered Living In The Arizona Desert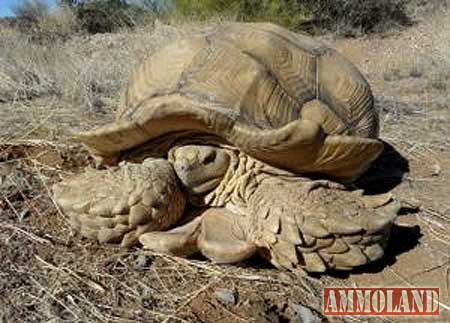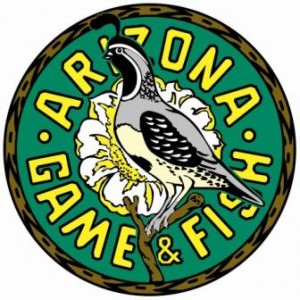 PHOENIX, AZ – -(Ammoland.com)- An exotic African spurred tortoise weighing in excess of 100 pounds was discovered living in the desert near the Queen Valley area recently – it had been in the area long enough to establish two burrows, including one that was 9-feet deep.
"Finding an exotic tortoise this size inhabiting the Sonoran Desert is a reminder of how important it is not to release any exotic species into the wild," said Cristina Jones, the turtles project coordinator for the Arizona Game and Fish Department.
Jones said exotic species such as this one could significantly harm native species, like the Sonoran desert tortoise, by spreading diseases into wild populations and out-competing them for available resources. "In addition, due to their immense size, while defending its territory an African spurred tortoise could easily injure a native desert tortoise."
This is the second African spurred tortoise in the wild reported this year in Arizona. Game and Fish also often receives calls from people who find these large, exotic tortoises wandering neighborhoods.
"When people purchase these tortoises they are about the size of a silver dollar, yet they can grow to more than 150 pounds," Jones said. "These exotic tortoises are long lived and because of their propensity to dig long, deep burrows, they can be extremely difficult to contain."

While tortoises can escape, pet owners may intentionally release them into the wild when they get too large or the people can no longer care for them. Jones pointed out that people think they are doing the tortoise a favor by releasing it into the wild, but that is not the case. "Releasing the tortoise into the wild is actually harmful to the tortoise as well as to native species."
"Keeping these tortoises from escaping and damaging our native wildlife is the responsibility of the owner," Jones said. She added, "If you have a captive tortoise that you can no longer care for, please contact a pet store or your local reptile rescue."
Jones explained that exotic species are a burden on our limited conservation dollars, including Heritage Funds, which are so critical to the department's ability to manage Arizona's native wildlife.
In addition to African spurred tortoises, Game and Fish also responded to reports of a leopard tortoise found in Buckeye and an alligator snapping turtle discovered at Papago Park.