Knife Rights Featured Front Page on New York Times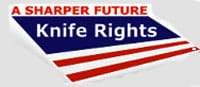 Gilbert, AZ –-(Ammoland.com)- The Sunday edition of the New York Times featured a front page article on Knife Rights and efforts to remove or rationalize restrictive knife laws and enhance protection for lawful use of knives by honest citizens.
While the reporter got a few facts incorrect, in general the article can be viewed as relatively even-handed and a positive, especially considering the source.
(Note that this article was written prior to Knife Rights' first case in New York being settled with a dismissal.)
Read the article at the New York Times online: https://nyti.ms/dERpW1
View a PDF (photos) of the article from the paper: https://bit.ly/fLR6U6
Knife Rights Foundation is leading the legal fight against New York County Distract Attorney Cyrus Vance, Jr's assault on our pocketknives. Help us stop this insanity.
Please make a contribution to our fight against the NYC DA's assault on our pocketknives: https://bit.ly/Scvp9
ALERT! ALERT! ALERT! ALERT!
If you are a retailer or individual who finds yourself targeted for the sale or possession of so-called illegal knives (one-hand opening and assisted opening knives inappropriately claimed to be gravity knives or switchblades) in New York, we urge you to immediately contact Knife Rights at: [email protected] or call toll-free: 1-866-889-6268.
About:
Knife Rights has quickly grown to become America's largest grassroots knife owners organization. Invest in a Sharper Future. Become a Knife Rights member and make a contribution to support the fight for your knife rights. Visit www.kniferights.org