Michigan DNRE Seeks Information on Two Illegally Killed Bucks in Portage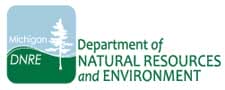 Michigan –-(Ammoland.com)- Conservation officers with the Michigan Department of Natural Resources and Environment are seeking information about two bucks that were illegally killed in the Portage area between Thanksgiving and Nov. 28.
Officers believe that the deer were shot from a car using a handgun or .30-30 rifle, and are particularly interested in talking to anyone who may have noticed a suspicious or slow-driving vehicle with two or more people in the vehicle in the vicinity of Romence Road on Thanksgiving Day or near the intersection of Garden Lane and Lovers Lane on Nov. 28.
An 11-point buck was shot at 2:30 p.m. Thanksgiving Day on Romence Road, and a 12-point buck was shot around 7:30 a.m. near Garden Lane and Lovers Lane on Nov. 28. Both animals were quickly discovered in the woods by conservation officers and police who responded to calls about shots being fired. Officers believe whoever shot the deer were going to return to cut off the antlers, but were likely scared off by law enforcement officers who responded quickly to the scene.
The deer were collected by conservation officers and taken to nearby meat processors. The venison from the deer was donated to a local food bank, and the antlers were kept as evidence in the case.
Anyone with information about the persons who may have illegally shot the two deer can contact the DNRE's Report All Poaching 24-hour hotline at 800-292-7800. Information may be left confidentially. Monetary rewards are sometimes distributed for information that leads to an arrest. People with information can also call the DNRE Plainwell Operations Service Center at 269-685-6851, the Kalamazoo County Silent Observer at 269-343-2100 or the Portage Police Department at 269-329-4567.
Google map of incident location.
The Department of Natural Resources and Environment is committed to the conservation, protection, management, and accessible use and enjoyment of the state's environment, natural resources and related economic interests for current and future generations. Learn more at www.michigan.gov/dnre.