Turkey THUGS Go Afield with Mossberg Shotguns
Mossberg Sponsors Mossy Oak's New TV Series with Exclusive Turkey Shotguns.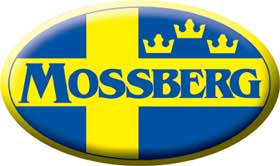 North Haven, CT –-(Ammoland.com)- For over 90 years Mossberg has been a leader in the design and manufacturing of hunting, shooting, youth, military and law enforcement firearms. They continue moving forward into 2011 maintaining this leadership by sponsoring Mossy Oak's New TV Series, "Turkey THUGS," with special model turkey shotguns.
Mossberg delivers four new high-performance Turkey THUG shotgun models, each engraved with "Turkey THUG Series" on the receiver. All Turkey THUG pump-action shotguns will feature Mossberg's revolutionary Lightning Pump Action ("LPA") user-adjustable, creep-free trigger system, which provides unmatched accuracy.
The Turkey THUG Series boasts adjustable fiber optic sights on all models and two of the models will feature the addition of a mounted and bore-sighted 30mm TRUGLO red-dot sight. The two models with the red-dot sights have incorporated a back-up fiber optic system that allows the hunter to look under the red-dot sight to utilize the fiber optic sights. Three of the models will feature Mossy Oak's new Break-Up Infinity camo pattern with a receiver-mounted Picatinny rail. Two stock options will be available; classic (in black or Break-up Infinity) and a full-length pistol grip (Break-Up Infinity only).
Mossberg Turkey THUG shotguns will be the exclusive shotguns used in Mossy Oak's Turkey THUG television program in 2011-2012, which airs on the Pursuit Channel. According to Mossy Oak, "Turkey THUG separates the warriors from the wannabes and take hunters new and old inside the minds of those most obsessed with the rites of spring."

"Bringing together Mossberg shotguns with Mossy Oak patterns for specialized turkey guns is the perfect storm of sorts," says Tom Taylor, VP of Sales & Marketing for O.F. Mossberg & Sons. "We are excited to see these new shotguns in action both in the field and on the screen."
ITEM
TYPE
GA.
CHMBR
CAPACITY
BARREL
STOCK
L.O.P.
SIGHTS
CHOKES
WEIGHT
LENGTH
FINSIH

63229

835

12

3.5″

5+1

20″ VR

Synthetic

14.5″

Red-Dot w/Adj. Fiber Optic

XFCT PTD

7.25 lbs.

40.75″

MO BU Infinity

45228

535

12

3.5″

5+1

20″ VR

Pistol/Syn

13″

Red-Dot w/Adj. Fiber Optic

XFCT PTD

6.75 lbs.

39″

MO BU Infinity

45229

535

12

3.5″

5+1

20″ VR

Pistol/Syn

13″

Adj.

Fiber Optic

XFCT PTD

6.75 lbs.

39″

MO BU Infinity

55216

500

12

3″

5+1

24″ VR PTD

Synthetic

14.5″

Adj.

Fiber Optic

XX Full

7.25 lbs.

44.25″

Matte Black
Mossberg® 500® 12ga. MSRP: $409
Mossberg® 535™ w/TRUGLO red-dot MSRP: $671
Mossberg® 535  MSRP: $612
Mossberg® 835® MSRP: $642
About O.F. Mossberg & Sons, Inc.
Founded in 1919, O.F. Mossberg & Sons, Inc. is the oldest family-owned firearms manufacturer in America, and is the largest pump-action shotgun manufacturer in the world. Leading the way with over 100 design and utility patents to its credit, and standing as the first ISO 9001 Certified long-gun manufacturer, Mossberg is considered to be one of the most innovative firearms manufacturers in U.S. History. For more information on commercial, special purpose, law enforcement and military shotguns, rifles and accessories, please visit their website at mossberg.com.