Ohio Restaurant Carry Bill Needs Your Support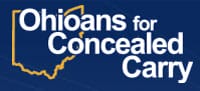 Campbell Ohio –-(Ammoland.com)- I need your help on Monday, December 6th — but let me give you a little history on why I need your help.
Over the past two years Ohioans For Concealed Carry has invested a substantial amount of blood, sweat, tears and money out of our treasury to see Restaurant Carry come to life.
We worked with Representatives of the Ohio House to introduce the first bill to make it lawful to possess a firearm in an Ruby Tuesdays or a Max & Erma's so long as you were not consuming alcohol.
Inevitably, Democrats in the Ohio House leadership stopped movement on Ohio House Bill 203 — and similar legislation was introduced in the Ohio Senate and passed.
We've covered the travels expenses of Ms. Nikki Goeser to come to the Ohio Legislature twice to testify before both the Ohio House, and the Ohio Senate when SB239 was introduced. Her testimony was referred to as "some of the most compelling ever heard" by then-chairwoman Bolon immediately following hearing her testimony.
You can find recordings of those hearings in the following video:
Sadly, when the recent November election turned the Ohio House over to Republican control and when the Governor was not elected politics seemed to come to a standstill in the Ohio Legislature.
I personally anticipated the Ohio House to hold hearings on SB239 and SB247 following the election, but it inevitably seemed as if there would be no further sessions scheduled.
That has changed – the Ohio House has scheduled sessions, but they HAVE NOT committed to do anything with these two vital bills that we have invested substantial time and money trying to enact them into law.
As I said earlier in this article I need your help on Monday, December 6th making phone calls, and I need you to forward the link to  this artcile to everyone you know who would consider doing the same.
First: Call every member of the Ohio House Democratic leadership and urge them to work with Speaker Budish to send these bills to Governor Strickland.
Their names and numbers are listed here for your convenience:
Armond Budish, Speaker of the House – 614-644-5441
Matt Szollosi, Speaker Pro Tempore – 614-466-1418
Tracy Maxwell Heard, Majority Floor Leader – 614-466-8010
Jay P. Goyal, Majority Whip – 614-466-5802
Linda S. Bolon, Assistant Majority Whip – 614-466-8022
Remind Ms. Bolon of her statements during the HB203 hearings when she told Ms. Goeser that her testimony was some of the most compelling she ever heard.
When you reach their staff: Introduce yourself, tell them you're a member and supporer of Ohioans For Concealed Carry, and state that you understand there is a limited opportunity for remaining sessions and that you want House Leadership to work with Speaker Budish to pass both SB239 and SB247.
SB239 resolves Restaurant Carry and makes changed to transporting a firearm in a vehicle.
SB247 is a "rights restoration" bill that provides a means for restoring an individual right to bear arms.
Once you've made these phone calls, you need to call your elected representative. How do you find them? Go here:
https://www.legislature.state.oh.us/ — on the right hand side of the page you can enter your zip code in and identify your elected Representative, who is representing you at least through the end of this calendar year.
Call their office and tell them everything mentioned above — then, tell them that you want them to join Representative Bubp's office in the effort to use a discharge petition to extract these bills from committee and send them directly to the House Floor, where they must be voted on by the entire Ohio House.
Finally, call Governor Ted Strickland's office at (614) 466-3555 – and advise them that you want Governor Ted Strickland to do everything in his power to get the Ohio House to send these two bills to his desk.
These are our last two chances of getting these bills to the desk of Governor Ted Strickland, where it is believed he will sign them or let them become law without his signature.
On Monday morning we'll send out a nearly identical alert of this nature to remind you to make these phone calls, but we wanted to give everyone the weekend to start forwarding these instructions to their friends and family members everywhere to increase the potential volume of phone calls.
Grassroots activism like this is what has made concealed carry reform in Ohio possible during lame duck sessions. We must remain vigilant that with enough pressure from the electorate these two bills may very well become law.
Thank you for your time in helping us reform Ohio gun laws!
Sincerely,
Jeff Garvas
Ohioans For Concealed Carry
p.s. – next week we'll have big news related to firearms litigation…
About:
Ohioans for Concealed Carry, founded in 1999, is a grassroots political activist organization. When founded, the primary goal of OFCC was getting concealed carry passed into law in Ohio. With that accomplished, our mission became to refine the concealed carry law and to expand and preserve the rights of all gun owners in Ohio. Visit: Ohioccw.org