A Statement From Ohioans For Concealed Carry on Ohio Senate Bill 239 before the Ohio House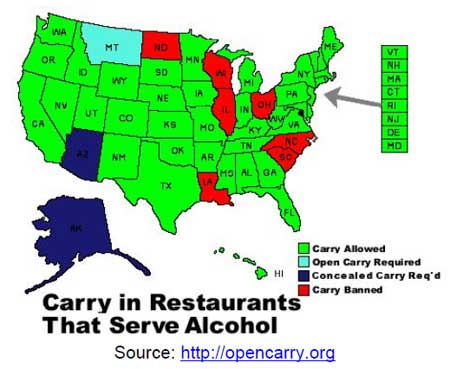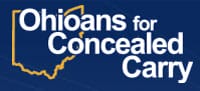 Ohio –-(Ammoland.com)- Recently the news media and pundits have gone out of their way to misrepresent the truth behind Senate Bill 239, legislation that would allow a concealed handgun licensee to enter a restaurant or other liquor serving business.
When this bill was introduced it was stated "when you go to the next Indian's game someone will have a beer in one hand and a gun in the other hand", and recently this bill has been opposed with the phrase "mixing guns and bars," which is effective but inaccurate propaganda.
The graphic above shows that Ohio is not adopting a new idea. In fact, 16 of the 18 states that honor Ohio's concealed handgun license while Ohioans travel allow Ohioans to carry a firearm in restaurants that serve alcohol in those states. Source: https://opencarry.org MYTH: SB239 is to allow concealed hangun licensees to carry in bars.
FACT: The legislation allows someone to enter a restaurant or other Class D establishment only if they are both:

a) not consuming any alcohol at all while in that establishment
b) not already under the influence of alcohol as defined by ORC 2923.15 (remains as written today)

FACT: Existing Ohio law (ORC 2923.15) prohibits mere possession of a firearm by anyone under the influence. Senate Bill 239 does not change this at all. It remains a crime to be under the influence and possess.
FACT: SB239 was written to allow a concealed handgun licensee to eat lunch or dinner at a restaurant that happens to have a liquor license, such as Chipolte, Ruby Tuesdays, or an Applebee's.
FACT: The armed patron of a restaurant may not consume alcohol at all or they're in violation of SB239.
FACT: SB239 would make eating dinner at a restaurant or other Class D establishment no different than walking down the liqour aisle of a grocery story while armed.
FACT: People don't go to bars to "not drink" intoxicating beverages, so they wouldn't fall under SB239. However, a cash delivery vendor who may service that business could lawfully carry a firearm.
MYTH: The police are opposed to allowing "guns in bars" and claim it'll lead to bloodshed.
FACT: A substantial number of FOP and other union lodges have Class D liqour permits & server liquor to cops.
FACT: Police officers in Ohio lobbied for this exact exemption for them in HB347 in 2007.
FACT: The Cleveland Patrolman's Association's "Zone Car Lounge", limited to police officers, serves alcohol.
FACT: Regardless of SB239's fate the only people in Ohio who can lawfully be armed & drink in a bar are cops.
Need proof? — See our documents Hypocritical & Biased opposition to HB203/SB239 by Ohio Law Enforcement:
https://bit.ly/g2WEV5 as well as our "Can I conceal carry here lawfully?" SB239 flow-chart: https://bit.ly/g5pEvs
The facts are quite simple – this legislation allows Ohio's concealed handgun licensees to eat at a restaurant that happens to serve alcohol or have a bar in a separate section of the restaurant, so long as they do not drink. The legislation does not prohibit a proprietor from posting a "No Guns" sign like any other private business.
The legislation does not, in any fashion, legalize or authorize the possession of a firearm by anyone consuming alcohol in any quantity, nor allow the same for anyone under the influence of alcohol as already prohibited by law.
About:
Ohioans for Concealed Carry, founded in 1999, is a grassroots political activist organization. When founded, the primary goal of OFCC was getting concealed carry passed into law in Ohio. With that accomplished, our mission became to refine the concealed carry law and to expand and preserve the rights of all gun owners in Ohio. Visit: Ohioccw.org