Wisconsin Gun Rights Political News
By Jeff Nass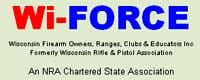 Wisconsin –-(Ammoland.com)- Personal Protection Bill: For the past year, WI-FORCE has been your voice in Madison helping to ensure that the citizens of Wisconsin maintain their Second Amendment rights.
WI-FORCE's position has not changed: "Constitutional Carry" which, as it implies, is very close to the right as the Constitution guaranties, is the concept that we support. WI-FORCE has and is working to get the best possible bill passed.
The key word is "passed." WI-FORCE is committed to getting the best bill possible that will allow the citizens of Wisconsin to exercise their constitutional rights.
Training: WI-FORCE is a strong advocate of training, but that training will need to fit the needs of the individual. This means that the individual needs to make the decision about what type and how much training is needed. Not a one-size-fits-all requirement mandated by the State. An individuals situational information is critical in making the decision on how much training is needed. WI-FORCE will protect not just the rights of the rich, the young or healthy citizen, but also (and maybe more importantly) the poor and the physically challenged.
All or None: The only way to ensure our rights is to get a bill passed. A few members that have contacted me have opined "all or none", but most understand that there are many opinions of what the bill should be. Although a Personal Protection bill (including concealed carry of firearms) is first on OUR agenda, but our legislators may have some other minor things to deal with such as jobs and the economy. WI-FORCE is committed to getting the best bill possible, as soon as possible, that will allow the citizens of Wisconsin to exercise their Constitutional Rights.
We Were There: 2010 could have been a bad year in Madison for the Second Amendment. WI-FORCE and our lobbyist, Bob Welch of the Welch Group, monitored over 100 bills and potential bills in Madison pertaining to firearms and hunting. Yes, I said over 100. When you needed a voice, WI-FORCE was there. Who else was there? The NRA. Although there are times that logistically it is impossible for Jordan Austin, our state NRA Representative, to make the hearings, he contacts us as the chartered NRA State Association, and provides aid and statements from the NRA and their legal team. We were able to get a few good bills passed and, more importantly, we stopped all of the very bad bills. Don't be fooled. Nobody else is protecting your rights in Madison on a regular basis.
What is in the new Bill? As I write this, no one has a bill in the legislature, and no one runs an approved or certified course for Wisconsin. WI-FORCE and NRA- ILA will be working with our legislators to get the best possible bill passed. Our current legislators knew last January that Wisconsin would have a Personal Protection bill. Talks with some in the majority party about passing a bill last summer did take place, but we could not get a reasonable bill written. With the coming changes in Madison, things will be much friendlier, but there is still a lot of work to do.
Other Groups: Although there are several groups that have been very public, be careful who you support or associate with. Very few groups have worked at all for your rights in Madison. No one was there on a regular basis other than WI-FORCE and the NRA. WI-FORCE contracts a full time lobbyist in Madison to ensure that we are there whenever there is anything to do with our 2nd Amendment rights. We do work with and have the support of several other groups, but again, do your homework and be careful who you support.
How Can You Help? Stay in contact with us by signing up for the Trigger (our monthly email newsletter) at www.wi-force.org and check back with the website regularly. Renew your membership in WI-FORCE and recruit others to join. When the time is right, and if it is needed, we will tell you to call your legislators or show up in Madison.
Remember, when things were bad, we were there. Now that things have improved, please support us. Yes, we need funds. It costs money to be in Madison. Although WI-FORCE is 100% volunteer, we do have a paid lobbyist and have travel expenses.
Please consider a donation to the WI-FORCE political fund and if your club makes political contributions, move that they contribute to WI-FORCE. Send donations to: WI-FORCE / Voice, W271 N7055 Hansen Dr., Sussex, WI 53089
About:
Wi-FORCE promotes and protects the shooting sports, hunting, and the lawful ownership and use of firearms in Wisconsin. We coordinate match schedules of member clubs, sanction the state championship matches, monitor and recommend legislation, and provide training and educational programs for our members, competitors and Wisconsin shooters. Wi-FORCE supports the interaction and education of all individuals and groups interested in the shooting sports and the natural right of citizens to own arms. Visit: www.wi-force.org