3-Gun Nation Sets 2011 Tour Dates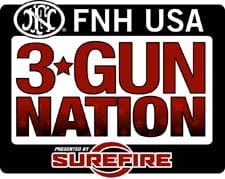 USA –-(Ammoland.com)- Following up on the ground-breaking inaugural 2010 FNH USA 3-Gun Nation Tour, Presented by SureFire, the remaining dates for the second season have been released.
Competitors will have ten events across the country to earn points toward qualifying for the 2011 3GN Championship.
For 2011, two preliminary events have already been completed, with points tabulated at last September's Adams Arms Ozark 3-Gun Championship and December's Fort Benning 3-Gun Challenge. The sophomore season also welcomes the addition of two brand new events, the AR15.com/Rockcastle Pro-Am and the season-ending FNH USA-3GN Championships in November. In all, ten events will count toward qualifying for the 3GN Championships where Leupold Tactical Optics will once again present $25,000 to the 3GN Champion.
With 10 events in which competitors can earn points, 3GN maintains the qualifying standard that a competitor must compete in at least three matches in order to be eligible for the 3GN Championship. Also, as in 2010, five 3GN Shoot-Offs are scheduled for the 2011 3GN Tour, with the first one completed, a $5,000 check from NSSF won by Team DPMS veteran James Darst in December following the Fort Benning 3-Gun Challenge. Four 3GN Shoot-Offs remain, held in conjunction with the following matches: Superstition Mountain Mystery 3-Gun; MGM Ironman; JP Enterprises Rocky Mountain 3-Gun; and Adams Arms Ozark 3-Gun Championships.
In addition to new tour dates come a few rules changes as well. In 2010, competitors qualified by division, meaning their top three scores had to come from within one division, such as Tactical Optics. For 2011, that requirement is gone, meaning competitors can feel free to shoot within any division they wish and still earn points toward the 3GN Championship. For example, a competitor could shoot two matches in Tactical Optics and one in Heavy Metal, and those three scores would tabulate toward the qualifying score.
"These measures are completely reactionary, based on a year of communication with every competitor, match director and range officer we talked to," said Chad Adams, 3-Gun Nation Vice President. "We only changed rules or procedures that were consensus among the 3-gun community."
Also gone in 2011 are scores based on four stages within a given match. This year match overall scores will be used to determine who shoots in individual shoot-offs and series points. Replacing last year's 400-point scoring system is a 300-point value for each match. Scores will be normalized, with 300 points to each individual division winner, 295 points for second place, 290 for third place, with scores descending one point in value per placement thereafter (4th-289, 5th-288, etc.).
"We continuously seek input from the sport itself," said Pete Brown, 3GN President. "We recognize that this sport is one that has evolved over time, and we want 3-Gun Nation, to the extent possible, to be a reflection of the many people who have strived for so long to make 3-gun great."
Of note, the Adams Arms Ozark 3-Gun Championship occurs twice within the 2011 3GN Tour. However, only one score may be used to tabulate a competitor's qualification score for the 3GN Championship. For more complete information on 2011 rules, click "View Rules and Information" at www.3GunNation.com.
The entire 2011 FNH USA 3-Gun Nation Tour will be aired on Versus, with the show moving to Sunday mornings at 7:30 AM EST and Thursdays at 11 AM EST.
Past episodes of 3GN can be viewed at www.3GunNation.com/TV.
September 2010
Adams Arms Ozark 3-Gun Championships
Completed
December 2010
Fort Benning 3-Gun Challenge
Completed
March 25-27
Superstition Mountain Mystery 3G
3GN Shoot-Off Event
April 29-May 1
Blue Ridge Mountain 3G
3GN Points Only
June 5-11
MGM Ironman
3GN Shoot-Off Event
Aug 4-6
JP Enterprises Rocky Mountain 3G
3GN Shoot-Off Event
Aug 26-28
AR15.com/Rockcastle Pro-Am
3GN Points Only
Sept 9-11
Adams Arms Ozark 3G Championship
3GN Shoot-Off Event
Oct 21-23
USPSA Multi-Gun Nationals
3GN Points Only
Nov 10-12
FNH USA 3-Gun Championship – 3-Gun Nation Championship
Final 3GN Points Event
3GN Championship, $25K from Leupold