Alamogordo Second Amendment Task Force Firearms Raffle Winner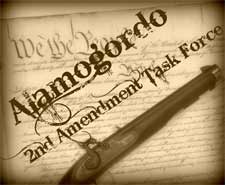 Alamogordo, NM –-(Ammoland.com)- We held our drawing yesterday for the Taurus Judge raffle. We would like to thank all of you who bought tickets.
Your support is appreciated. and every dollar goes back to you in the form of the literature we give away and the events we sponser.
Above is a photo of the winner, Orville Heltzer (alias Magnum) with 3 of our members, Matt St. John, Frank Gebbia, and Dean Woodruff.
About:
The Alamogordo Second Amendment Task Force is an association of private citizens engaging in the free exercise of their God-given, constitutionally protected right to be armed.Visit: www.alamogordo2atf.com