Biggest Names in Hunting to "Show You How it's Done" at Eastern Sports & Outdoor Show
February 5-13, State Farm Show Complex, Harrisburg, PA.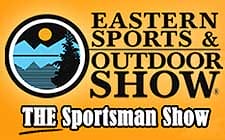 HARRISBURG, PA –-(Ammoland.com)- The 2011 Eastern Sports & Outdoor Show, presented by Outdoor Channel and Comcast, will feature a world-class lineup of hunting experts conducting seminars and meeting with fans for autographs and pictures.
"Our 2011 lineup of seminar speakers is very impressive. If you want to be a better hunter, our lineup of hunting experts at Eastern Sports & Outdoor Show can definitely show you how it's done," says Chris O'Hara, Event Director.
Top hunting experts scheduled to appear at the Show include:
Michael Waddell– Appearing February 5, 6, 9-13
Through his Outdoor Channel shows Bone Collectors, Realtree Roadtrips with Michael Waddell, Hunt Masters, and Turkey Call, Waddell has become one of the most popular and entertaining personalities in hunting world.
Ralph & Vicki Cianciarulo– Appearing February 5 – 13
The Cianciarulos are the husband and wife co-hosts of the award-winning Archer's Choice and The Choice television shows.

Vicki Cianciarulo is credited with taking the largest wild white-tailed deer by a female on camera, with her Colorado buck scoring over 200 inches. She also has numerous black bear, caribou, moose, dall sheep, whitetail, mule deer, antelope, a turkey Grand Slam, and many different African species to her credit. Her history includes outfitting and guiding for both bear and deer, serving on conservation boards and editing and producing television shows.

Ralph Cianciarulo is a well-known international bowhunter, a noted videographer, a seminar speaker, and a TV personality for Outdoor Channel.
Lee & Tiffany Lakosky– Appearing February 5 – 13
Husband and wife hunters, Lee and Tiffany Lakosky, are best known as stars of Getting' Close–one of the highest-rated shows in outdoor television–and The Crush with Lee & Tiffany.
Chuck Adams– Appearing February 5 – 11
Adams is the world's best known and most widely published bowhunter, authoring 4,550 magazine articles and 10 full-length books. He appears 25-30 times each year on ESPN, WGN, and TNN television networks and stars on ESPN's "Whitetail Country" and "Advantage Adventures" shows. He is the youngest archer ever inducted into the National Bowhunters Hall of Fame and SCI Bowhunters Hall of Honor.
Chris Brackett– Appearing February 5 – 13
Brackett is the former host of Arrow Affliction and originator of EXTREME AERIAL BOWFISHING. Brackett will hunt anything and is obsessed with all things hunting. His mission is seeking out the latest and best in hunting equipment and techniques and sharing that knowledge with his fellow hunters. He also enjoys showing off his impressive archery skills.
The Benoits– Appearing February 5 – 13
The Benoit brothers will present a new seminar video presentation showing the latest season's hunts with many tips on how to take big bucks.
Pat Reeve & Nicole Jones– Appearing February 5 – 13
Reeve and Jones are co-hosts of Driven TV on Outdoor. They are driven whitetail hunters who live and breath hunting. Jones has harvested a wide range of impressive animals including countless Pope and Youngs, one Boone & Crockett, a 12-foot alligator, antelope, and many African Species. Reeve has bagged over 50 Pope and Young bucks including the largest typical ever taken by a hunter on professional video, scoring 200 inches Boone and Crockett.
Jim Benton– Appearing February 5 – 13
Benton is host of the new show Chambered for the Wild on the Sportsman Channel, which features big-game hunts from around the globe. He has hunted all species of North American big. Benton has been tested by the frigid ice flows of the Arctic to become the first hunter to harvest two Polar Bears on the same hunt. He has also endured the sweltering heat of the Sonora Desert to hunt wide-racked Mule Deer. Other trips have taken him as far as Zambia to hunt Lion.
Matt Morrett– Appearing February 5 – 13
Morrett has earned five World Champion Friction Turkey Calling titles, five U.S. Open Turkey Calling Championships, and the coveted Grand National Champion title.
Eddie Salter– Appearing February 5 – 8
Salter is currently recognized as one of the countries leading authorities on turkey and deer hunting. He has appeared on ESPN, TNN, Outdoor Channel, numerous hunting videos and recent television commercials for Hunter's Specialties, Inc. He also has been featured in numerous outdoor magazine articles and radio interviews.
Steve Criner– Appearing February 10 – 13
Criner is a Hunter's Specialties Pro staff member. He conducts seminars all over the country and films for the Operation Predator video series. He has also been featured on numerous radio and outdoor TV shows such as H.S. Outdoors and Babe Winklemans Outdoor Secrets.
Alan Probst– Appearing February 5 – 13
Alan Probst is one of the best trappers in the county. After running his first trapline at the age of seven, it has been all about the outdoors since. Probst was a Bio-Chemistry Fisheries Science major in college before embarking on a 10-year professional baseball. He is the owner/operator of Alan Probst, Inc., which has produced four outdoor television programs including: North American Trapper, Sportsmens Outdoor Strategies, Hunt Doctor and Hlathini Safari's African Adventures. Probst has also written professionally for the "Pennsylvania Outdoor Times" and "Outdoors Magazine" on a monthly basis as well as periodic features for other national publications such as "Fur-Fish-Game."
Joella Bates– Appearing February 5 – 13
Bates is the first woman to take the Big 5 of Africa with a bow and the first bowhunter to take the Big 5 in a single safari. She is the first woman to take a turkey grand slam with only a bow and arrow.
For more information on the complete schedule of seminar speakers, contests and family entertainment offered at the 2011 Eastern Sports & Outdoors Show, log onto www.easternsportshow.com .
Other Eastern Sports & Outdoors Show sponsors include: Thompson Center Arms, Cabela's and Michael Waddell's Bone Collector
The Eastern Sports & Outdoor Show presented by Outdoor Channel and Comcast, now in its 56th year, has grown to be the largest outdoor hunting and fishing event of its kind in North America. With more than 1,200 exhibitors, The Eastern Sports & Outdoor Show brings the passion for the outdoors–indoors–by bringing outdoor sports enthusiasts of all ages from across the country to view the latest and best in hunting and fishing gear, shop for ATV's and RV's and plan & book hunting and fishing trips with outfitters & charters from around the world. The Eastern Sports and Outdoor Show also offers a wide range of seminars presented by experts along with hunting- and fishing-related contests and family-oriented entertainment.