Church Carry Bill Introduced in Georgia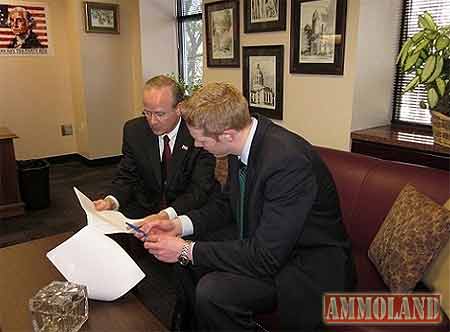 Kennesaw, Georgia –-(Ammoland.com)- I received some good news last night. A bill, H.B. 54, was introduced in the legislature to repeal the ban on carrying in places of worship.
Representative Bobby Franklin of Woodstock introduced the bill.
If you do one thing for liberty and gun rights today, please get on the phone and call your elected officials. Demand that they call for a public, up or down vote on H.B. 54 — AT ONCE! Once you call, please email me back and let me know what your legislators say.
Here is the number to call: 404-656-5020
Here is an excerpt from H.B. 54: www.legis.ga.gov/Legislation/20112012/108249.pdf
H.B. 54 does not add one new word to current state law. It simply repeals the state's ban on carrying in places of worship.
Recently, Representative Franklin invited me down to talk about the bill. He reiterated to me why it was so important for individuals to be able to protect themselves and their families in their places of worship.
There is no excuse for a Republican-dominated government here in Georgia to delay any longer.
Individuals in Georgia need to know that when they go to church or to their place of worship, they aren't being left exposed to a rampaging thug who may one day walk in and shoot the place up.
You and I have an historic opportunity to change this gun law for the better here in Georgia.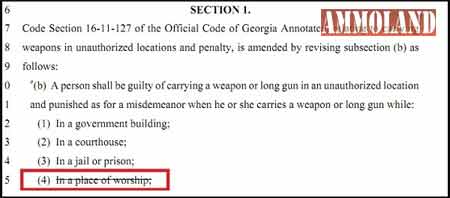 Please forward this article to your fellow activists.
Your action is needed today!
For liberty, Patrick Parsons
Executive Director
Georgia Gun Owners
About:
Georgia Gun Owners in a non-profit, non-partisan, grassroots firearm advocacy organization dedicated to countering the gun control lobby through an aggressive program designed to mobilize gun owners and liberty activists across the State of Georgia, while seeking to enlist public support for legislation that would remove compulsory government requirements for gun owners throughout the state. Georgia Gun Owners' mailing address is 1635 Old 41 Hwy., Ste. 112-202, Kennesaw, Georgia 30152. Georgia Gun Owners can be contacted at 678-719-2348. Georgia Gun Owners' web address is www.georgiagunowners.org.