Gore Optifade Concealment Available On Gear From Mystery Ranch, Archer Xtreme & Trophy Taker
New 2011 Partners to Offer Backpacks, Bow Sights and Arrow Rests with Concealment Pattern Based on Animal Vision.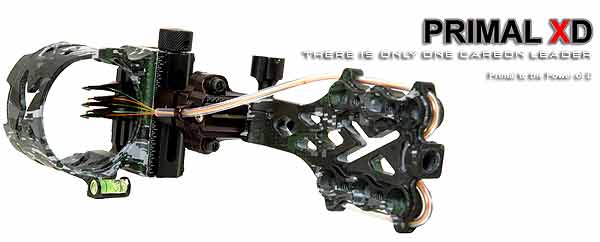 Newark, DE –-(Ammoland.com)- W.L. Gore & Associates, a leading manufacturer of advanced technology products including GORE-TEX branded products, today announced that three new partners will offer hunting gear featuring GORE OPTIFADE Concealment patterns in 2011.
Backpacks from Mystery Ranch, bow sights and stabilizers from Archer Xtreme and arrow rests from Trophy Taker will all feature Gore's scientifically-formulated concealment patterns based on animal vision.
"Visual concealment based on animal vision is the most advanced concealment option for the serious athlete hunter, and we are proud to expand our partner base to offer GORE® OPTIFADE patterns on an even greater variety of gear," commented David Dillon, Hunting Category Leader at W.L. Gore & Associates. "We selectively partner with companies that share our commitment to improving outcomes in the field and will continue to find superior products to feature the OPTIFADE pattern – providing a total gear solution for those focused on performance."
Mystery Ranch Packs
Bozeman, Montana-based Mystery Ranch will offer its NICE Frame and Crew Cab, Longbow and 6500 NICE backpack options as well as its Dragon Slayer backpack in GORE OPTIFADE Concealment Open Country pattern. The variety of Mystery Ranch backpacks available in OPTIFADE are suitable for day hunts, scouting, backpack hunting, load hauling, and extended expeditions.
Archer XTreme Sights
Archer Xtreme is a new archery company developing performance gear for experienced bow hunters. They will offer their Archer Xtreme Carbon Carnivore and Primal XD sights in GORE OPTIFADE Concealment Open Country and Forest patterns. The Carbon Carnivore is a blend of advanced metals and a high-modulus carbon for superior strength, resulting in a precise, lighter and lower vibration sight. The Primal XD provides top quality components in a rugged design and a tool-less micro-pin adjust system for fast individual pin adjustments. Archer Xtreme will debut its line of accessories at the 2011 ATA show in Indianapolis.
Trophy Taker Rests
A leading manufacturer of archery accessories for more than a decade, Trophy Taker will offer its line of Smackdown™ and Extreme Full Capture and Slot Adjust fall away arrow rests in GORE OPTIFADE Concealment Open Country and Forest patterns. Trophy Taker rests feature all metal construction, bullet-proof no-nonsense design, and an unconditional lifetime warranty.
These new partners join Sitka, BowTech and G5 as select providers of gear featuring the OPTIFADE patterns.
Before the development of GORE OPTIFADE Concealment, visual concealment had been designed from the perspective of the human eye. To create OPTIFADE, the team at Gore worked with a panel of scientific advisors and employed the latest research in animal vision science, camouflage science and computer technology to create proprietary new concealment patterns. In contrast to mimicry camouflage, which attempts to make the hunter closely resemble his environment, Gore's digital patterns aim to prevent the animal from recognizing a hunter as a predator, even if the hunter is detected. The Forest Pattern, which launched in 2010, is optimized for hunting deer from a tree stand in a forested environment. The Open Country pattern is optimized for spot and stalk hunting in more open terrain.
For more information about GORE OPTIFADE Concealment, visit www.optifade.com.
About W.L. Gore & Associates (www.gore-tex.com)
With more than $2.5 billion in annual sales and approximately 9,000 employees in 30 countries worldwide, W. L. Gore & Associates, Inc., provides diverse, high-performance solutions in consumer, industrial, electronic, medical, and surgical markets. As well-known for its unique corporate culture as for its products, Gore's 50-year success story rests equally on product and organizational innovation. Perhaps best known as the inventors of expanded PTFE (ePTFE) and the makers of GORE-TEX® fabric, Gore is a leading manufacturer of thousands of advanced technology products that comprise a breadth of capabilities.
About Mystery Ranch (www.mysteryranch.com)
Founded in 2000 by renowned backpack experts Dana Gleason and Renee Sippel-Baker, Mystery Ranch makes packs for people whose success depends on the quality of the backpack they're wearing. Mystery Ranch produces a full line of American Made backpacks for the Military, Law Enforcement Agencies, Wildland/Hotshot Firefighters, Backpack Hunters, Climbers, Skiers, Mountaineers, Thru Hikers, and Backpackers. The company's home office in Bozeman, Montana, employs 80 people. Mystery Ranch packs are 100% handmade in the U.S.A.
About Archer Xtreme (www.archerxtreme.com)
Archer Xtreme is a new, passion-driven archery company focused on developing performance gear for today's archers. Founded and led by longtime bow hunter, bow hunting guide and 15-year industry veteran Mark Garcia and 10-year outdoor industry veteran and AXT Vice President Travis Howick, Archery Xtreme introduces its innovative collection of sights, quivers, stabilizers and more in 2011.
About Trophy Taker (www.trophytaker.com)
Trophy Taker Inc. is a manufacturer and distributor of archery accessories. Founded in 1999, the company specializes in arrow rests, sights and broadheads. Headquartered in Plains, Montana, the company's customers include dealers and distributors across the United States and around the globe.
OPTIFADE, GORE-TEX, GORE and designs are trademarks of W. L. Gore & Associates., Inc © 2011 , 295 Blueball Rd, Elkton, Md, 800-431-GORE, gore-tex.com