Michigan's Sleepy Hollow State Park Plans Guided Snowshoe Hike on Feb. 20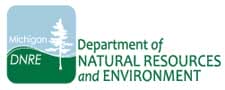 Michigan –-(Ammoland.com)- The Department of Natural Resources and Environment (DNRE), the Clinton County Department of Waste Management and the Eaton County Parks Department announce a great opportunity to "GO-Get Outdoors" and enjoy the splendor of Michigan in winter.
The public is invited to participate in a guided snowshoe hike at Sleepy Hollow State Park near Laingsburg from 10 a.m. to 1 p.m. on Sunday, Feb. 20.
"Snowshoeing is a growing popular winter activity. Sleepy Hollow visitors will have a chance to try out snowshoes and hike through the woods and fields guided by an outdoor interpreter, and to experience the beauty and wonder of Sleepy Hollow's snow covered landscape," said Clinton County Environmental Educator Kathleen Donahue.
The one-mile hike will begin at the East Picnic Pavilion with an introduction to Sleepy Hollow and a short talk on winter survival and equipment before heading through the new growth forest of pine and oak. Visitors will stop at deer beds and look for signs of deer and other animals as they travel quietly along the trails, beside the lake and across the meadows with many rest stops along the way.
After the invigorating hike, participants can warm up by the fireplace at the pavilion with the interpreters who will have a box of "natural treasures" from the area to share. A grill will be available for those who would like to cook lunch. It is advisable to dress warmly in layers and bring your own hot drinks and trail snacks.
A limited number of snowshoes are available for rent for this event with the following sizes: Young Youth (under 80 pounds), Standard Youth (up to 125 pounds), Small Adult (up to 175 pounds), Medium Adult (up to 220 pounds), and Large Adult (over 220 pounds). There is a charge of $5 per person for the snowshoe hike and snowshoe rental is available for an additional $5 per person.
Advance registration is required. Call Kathy Donahue at the Clinton County Department of Waste Management at 989-224-5177 or email [email protected] for more information and to register. Sleepy Hollow State park is located at 7835 East Price Rd., near Laingsburg. For more information about the park, call 517-651-6217.
The Recreation Passport has replaced motor vehicle permits for entry into Michigan state parks, recreation areas and state-administered boating access fee sites. This new way to fund Michigan's outdoor recreation opportunities also helps to preserve state forest campgrounds, trails and historic and cultural sites in state parks, and provides park development grants to local communities.
Michigan residents can purchase the Recreation Passport ($10 for motor vehicles; $5 for motorcycles) by checking "YES" on their license plate renewal forms, or at any state park or recreation area. Non-resident motor vehicles must still display a valid non-resident Recreation Passport ($29 annual; $8 daily) to enter a Michigan state park, recreation area or state-administered boating access fee site; these can be purchased at any state park or recreation area, or through the Michigan e-Store at www.michigan.gov/estore. To learn more about the Recreation Passport, visit www.michigan.gov/recreationpassport or call (517) 241-7275.
The Department of Natural Resources and Environment is committed to the conservation, protection, management, and accessible use and enjoyment of the state's environment, natural resources, and related economic interests for current and future generations. For more information, go to www.michigan.gov/dnre.