New Congress & A New Ally For Gun Owners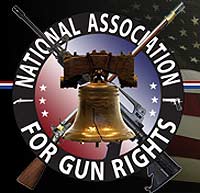 Colorado ––(Ammoland.com)- A new Congress may mean new threats, but it also means new members — and this year some new pro-gun members.
But none am I more excited about than Dr. Rand Paul (R-KY), who was sworn in as a member of the United States Senate yesterday afternoon.
At his swearing in reception, U.S. Senator Rand Paul and NAGR Director of Operations Luke O'Dell had this photo snapped after discussing the upcoming fight over the United Nations' Small Arms Treaty gun ban.
Dr. Paul has been a long time and outspoken advocate for gun rights.
The NRA may have ignored pro-gun hero Rand Paul, but the National Association for Gun Rights didn't.
Senator Paul was the first candidate to be endorsed by the National Association for Gun Rights PAC (NAGR-PAC) for his 100% pro-gun commitment.
Rand Paul will stand with you and not the anti-gun establishment in Washington D.C. Paul's victory is a triumph not only for members of the National Association for Gun Rights, but for gun owners across the nation.
The donations of members like you enabled our State Education Program to mail and e-mail educational materials to thousands of voters outlining Dr. Paul's unwavering support of our gun rights and his opponents' radically anti-gun ideology.
Rand Paul is committed to fighting against the United Nations' Small Arms Treaty and standing up for the rights of gun owners.
While we have much to be concerned about going into the new Congress, having Senators like Rand Paul working directly with the National Association for Gun Rights gives hope that with your help, we'll be able to continue to fight back gun control.
For liberty,
Luke O'Dell
Director of Operations
National Association for Gun Rights
About:
The National Association for Gun Rights was founded in 2001 to serve as a grassroots gun rights group focusing on building state-level gun rights groups and lobbying for pro-gun federal legislation. Brown has been a gun lobbyist for more than 17 years. Visit: www.nationalgunrights.org
Editorial Disclaimer: The opinions and views expressed above do not necessarily reflect those of the staff, AmmoLand Shooting Sports News, or other sponsors and partners. See the Editorial-Review Process for more details.