NJ Deer Classic at the Outdoors Show January 13-16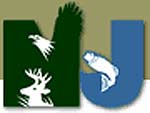 Trenton, NJ –-(Ammoland.com)- Dozens of outstanding white-tailed deer taken during New Jersey's 2009-10 hunting seasons will be available for viewing at the upcoming Garden State Outdoor Sportsmen's and Adventure Show and Deer Classic. This years show will be held from January 13 – 16 at the New Jersey Convention & Expo Center in Edison, and promises to be the best ever.
The NJDEP Division of Fish and Wildlife will have a large, newly refurbished display and exhibit area at the show where hunting and fishing licenses will be available for purchase. Visitors will have the opportunity to speak with biologists representing different areas of expertise, and pick up some informational literature as well.
Division biologists will also be presenting seminars on "How to Score Your White-tailed Deer Rack" and the "Top 5 Reasons to Hunt Deer in New Jersey." Check the show website at www.gsoss.com for seminar times and locations.
The Deer Classic Awards Ceremony will be held at 2:30 p.m. on Sunday, January 16 in the main ballroom at the show. Winning deer are the most recent seasons' top scorers in the division's Outstanding White-tailed Deer Program (see www.njfishandwildlife.com outdeer.htm for all-time lists of qualifying deer).
Additionally, the Show's new management is offering a $1.00 discount on tickets and will donate $1.00 for every ticket sold through an online promotion to New Jersey's Hunters Helping the Hungry (HHH) Program. HHH is a non-profit organization working with regional food banks that enables hunters to donate venison to the needy. Tickets can be purchased online at www.gsoss.ticketleap.com/gsoss/. Use promo code HHH.
For additional details on the discount ticket special go to www.sportsmensbuyersguide.com/blast/
The Garden State Outdoor Sportsmen's and Adventure Show and Deer Classic provides a great opportunity for families to enjoy a day together learning about the great hunting and fishing opportunities in New Jersey, as well as all of North America, and to see the latest in hunting, fishing and outdoor gear.
The Garden State Deer Classic is sponsored by the New Jersey State Federation of Sportsmen's Clubs, United Bowhunters of New Jersey, New Jersey Outdoor Alliance Conservation Foundation and the Garden State Outdoor Sportsmen's and Adventure Show.
For more information on the Deer Classic visit www.njfishandwildlife.com/deerclassic.htm on the Fish and Wildlife website.