Tahquamenon Falls State Park Offers Guided Snowshoe Hikes & Lantern-Lite Skiing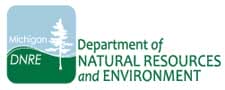 Michigan –-(Ammoland.com)- Tahquamenon Falls State Park offers several opportunities to enjoy its winter beauty, with guided snowshoe hikes and lantern-lit skiing on Saturdays throughout February, the Department of Natural Resources and Environment announced today.
The park is located on Michigan Highway 123, near the community of Paradise in Chippewa County.
Guided snowshoe hikes will take place at the Upper Falls at 3:30 p.m. on Feb. 5, 12, 19 and 26. Led by the park interpreter, these walks through Tahquamenon's snow-covered woods will show participants how easy snowshoeing is.
"If you can walk, you can snowshoe," said DNRE park interpreter Theresa Neal. "This fun, inexpensive sport can help keep you healthy through the cold winter months, and you couldn't pick a more beautiful setting to give it a try."
Visitors also can take in the winter scenery by lantern light with an evening ski or snowshoe walk along a one-mile forest trail between 5:30 and 8 p.m. on Feb. 6, 13, 20 and 27. The Lantern-Lit Ski and Stroll program will take place at the park's Upper Falls. A limited number of snowshoes are available to borrow for both programs. There is no charge for the hikes.
Semi-modern campsites and a new, modern lodge are available during the winter at Tahquamenon Falls State Park. The campsites include electrical outlets, but no flush toilets; the lodge includes heat, electricity, a furnished kitchen, a bathroom and bedrooms. Reservations can be made by calling the park headquarters at (906) 492-3415.
The Recreation Passport has replaced motor vehicle permits for entry into Michigan state parks, recreation areas and state-administered boating access fee sites. This new way to fund Michigan's outdoor recreation opportunities also helps to preserve state forest campgrounds, trails and historic and cultural sites in state parks, and provides park development grants to local communities.
Michigan residents can purchase the Recreation Passport ($10 for motor vehicles; $5 for motorcycles) by checking "YES" on their license plate renewal forms, or at any state park or recreation area. Non-resident motor vehicles must still display a valid non-resident Recreation Passport ($29 annual; $8 daily) to enter a Michigan state park, recreation area or state-administered boating access fee site; these can be purchased at any state park or recreation area, or through the Michigan e-Store at www.michigan.gov/estore. To learn more about the Recreation Passport, visit www.michigan.gov/recreationpassport or call (517) 241-7275.
The DNRE is committed to the conservation, protection, management, and accessible use and enjoyment of the state's environment, natural resources, and related economic interests for current and future generations. Learn more at www.michigan.gov/dnre.