Virginia Citizens Defense League – Where The Rubber Meets The Road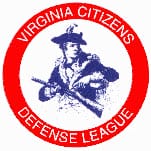 Covington VA –-(Ammoland.com)- We are fast approaching the start of this year's General Assembly session – Wednesday, January 12th.
This, ladies and gentlemen, is where the rubber meets the road!  VCDL, as usual, will be playing both offense and defense – pushing pro-gun bills, while fighting against gun-control in all of its ugly forms.
What VCDL will do to help you, and what you can do to help VCDL.
VCDL will post its bill tracking system for 2011 on its web site soon.  You will be able to track gun bills with ease as they work through the General Assembly.
Email traffic from VA-ALERT is going to go way up for the next month or so as we keep you apprised of the status of gun bills.  We will have "Action Items," which will be asking you to contact your legislators on the various bills.  We make doing that as simple as falling out of bed, as you will soon see. 😉
When you receive an "Action Item" or, especially an "Urgent Action Item", please try to read and act on that email as soon as possible – things can move at the speed of light at the General Assembly.
This is your chance to help change the gun laws in Virginia for the better.  Please don't sit back and hope someone else will carry your water on this.  If you are a VCDL member, you ARE the water carriers for gun rights in Virginia!
One of the things that makes VCDL a force to be reckoned with is when thousands of you send those emails and make those phone calls on the various bills.
VCDL LOBBY DAY
And to really drive home our message, VCDL Lobby Day will be on Monday, January 17th.  We will be lobbying the General Assembly in groups in the morning and we will have a rally at the Bell Tower from 11 AM to 12 Noon.  Some of the speakers will include Delegate Brenda Pogge, Sheriff Danny Diggs (York County), Scott Lee (of the Lee Brothers show on WRVA, AM 1140 in Richmond), and Constitutional Lawyer Patrick McSweeny.
You can see some of last year's Lobby Day event on the VCDL web site or by clicking here:

VCDL Lobby Day 2009 from McGee Digital Media Inc. on Vimeo.
Mark your calendars and come do your part to protect our freedom, while having a lot of fun at the same time!  Details on Lobby Day will follow soon.
About:
Virginia Citizens Defense League, Inc. (VCDL). VCDL is an all-volunteer, non-partisan grassroots organization dedicated to defending the human rights of all Virginians. The Right to Keep and Bear Arms is a fundamental human right. Visit: www.vcdl.org