Win an NRA Bowie Knife at NRAhuntersrights.org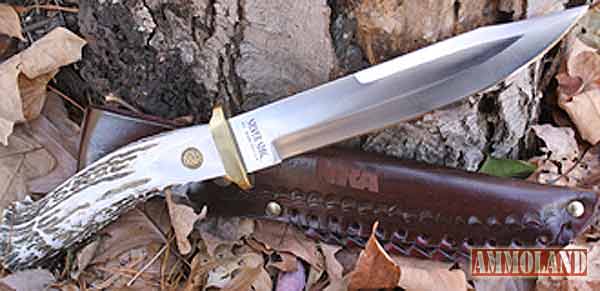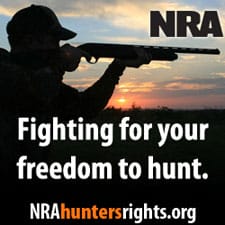 Fairfax, VA--(Ammoland.com)- If you are a diehard fan of all things NRA, you won't want to miss this month's gift giveaway on www.NRAhuntersrights.org.
For the month of January, we're giving away an NRA Pacific Bowie stag handle knife adorned with an NRA medallion and featuring a handmade leather sheath bearing the NRA logo.
The Bowie knife figures prominently in U.S. history and folklore. Popularized and refined by 19th century frontiersman Jim Bowie, it's a style of knife that is truly American.
The NRA Pacific Bowie stag handle knife is no different, made in the Pacific Northwest by the craftsmen at Silver Stag.
The knife's 8 ¼-inch blade is constructed from D2 steel, a modern, state-of-the-art material known for superior edge-holding and ease-of-maintenance—a marked improvement over Bowie's original high-carbon steel blades.
This blade is heat treated to a 52-54 Rockwell hardness, then attached to a one-of-a kind shed antler handle embedded with a burnished NRA medallion for an overall length of 14 inches. The knife also comes with a hand-crafted leather sheath bearing the NRA logo. Free to one reader, this knife retails for $164.95.
To enter, visit www.NRAhuntersrights.org and scroll down to "Gift Giveaway" for simple entry instructions. Entries will be accepted now until Jan. 31, and a winner will be announced on our homepage Feb. 1.
To see the full line of hunting, shooting and NRA-related merchandise available through the NRA Store, visit www.NRAstore.com.
About:
For the most up-to-date information about your hunting rights there's just one source: www.NRAhuntersrights.org.