Arizona Game And Fish Commission To Meet Friday In Phoenix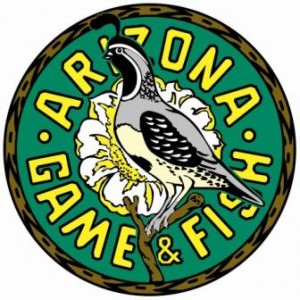 PHOENIX, AZ – -(Ammoland.com)- The next Arizona Game and Fish Commission meeting will be held on Friday, Feb. 4, at the Game and Fish Department headquarters at 5000 W. Carefree Highway in Phoenix (1.5 miles west of I-17). The public session begins at 8 a.m.
Items on the agenda include consideration of amending Commission Order 40 to establish an open season, and a one-fish bag and possession limit for Gila trout, at Frye Mesa Reservoir for 2011 and 2012. Commission Order 40 establishes open areas, season dates, and bag and possession limits for fish.
In addition, the commission will: discuss the 2011 director's goals and objectives; be presented with a "commission rules of practice" approach to consider for possible adoption as a guidance document for future commissions; consider approval of a Notice of Emergency Rulemaking for the adoption of a new Article 11 to address issues associated with aquatic invasive species; consider approval of the Article 5 Five-year Review Report (regarding boating and water sports) for submission to the Governor's Regulatory Review Council; and, consider approval of the Article 7 Five-year Review Report (regarding Heritage Grants) for submission to the Governor's Regulatory Review Council.
The commission will also hear license revocation cases involving violations of the Game and Fish codes, consider several consent agenda items, and receive updates on the department's activities related to state and federal legislation, shooting sports and ranges (including the Northern Arizona Shooting Range), lands issues/habitat program, law enforcement program, enterprise architecture, and information/education and wildlife recreation activities.
The public can view the meeting any of three ways: (1) attending the meeting in person in Phoenix; (2) viewing it via video stream at any of six Game and Fish regional offices; or, (3) viewing it over the Web at www.azgfd.gov/commissioncam.
Those wishing to submit "blue slips" to present oral comment during the meeting must do so either at the Phoenix meeting or at any of the regional Game and Fish offices (Pinetop, Flagstaff, Kingman, Yuma, Tucson and Mesa). For office addresses and contact information, visit www.azgfd.gov/offices.
The Game and Fish Commission is comprised of five members (serving staggered five-year terms) appointed by the Governor and confirmed by the Senate. No more than one commissioner may be from any one county. No more than three may be from the same political party.
The commission is the policy-setting board overseeing the Arizona Game and Fish Department. Since its inception in 1929, this organizational structure has served as a buffer for the best interests of science-driven wildlife conservation during eight decades of back-and-forth political change.
For a complete meeting agenda or to learn more about the Game and Fish Commission, visit www.azgfd.gov/commission.
The Arizona Game and Fish Department prohibits discrimination on the basis of race, color, sex, national origin, age, or disability in its programs and activities. If anyone believes that they have been discriminated against in any of the AGFD's programs or activities, including employment practices, they may file a complaint with the Deputy Director, 5000 W. Carefree Highway, Phoenix, AZ 85086-5000, (602) 942-3000, or with the Fish and Wildlife Service, 4040 N. Fairfax Dr. Ste. 130, Arlington, VA 22203. Persons with a disability may request a reasonable accommodation or this document in an alternative format by contacting the Deputy Director as listed above.