California Rifle and Pistol Association's 136th Annual Gala
Presents Keynote Speaker Tom Gresham, Host of radio talk show Gun Talk.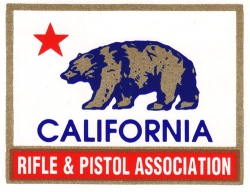 Sacramento, CA –-(Ammoland.com)-Please plan to join us on Saturday, February 26 for a celebration full of entertainment and surprises as we proudly present CRPA's 136th Annual Gala.
We are expecting a SELL OUT.
Please order your tickets today! Individual tickets are $69, which includes parking, a delicious three course meal, entertainment, keynote speakers, the presentation of awards to Outstanding Peace Officer, Senator, and Assembly Member, participation in the live auction, a ticket for the DOOR PRIZES, and entries to our April 1 Sweepstakes.
Featured Guests and Honorees:
Guest Speaker – NRA President, Ron Schmeits
Outstanding Legislator – Assemblyman, Curt Hagman
Outstanding Legislator – Senator, Lou Correa
Outstanding Peace Officer – Sheriff, Thomas Allman
Live Auction!
Pre-Live Auction bidding starts immediately and will be open to all CRPA members and the public until Friday, February 18 at 4:30 PM. The highest bid received by that date will be the starting bid at the live auction held at the CRPA Gala in Sacramento on February 26. If no higher bid is received at the live auction, then the pre-live auction bid will be the winner.
Please call (714) 992-2772 if interested in making a bid. Have your CRPA member information at hand including credit card number. Your credit card will be pre-authorized, but not charged to guarantee your bid. For other inquires please contact CRPA.
Call (714) 992-2772 to place your bid right now! Click the items below for more information.
Sculptures by Lorenzo Ghiglieri
Argentina Big Game Safari for 3 Hunters
New Zealand Big Game Safari for 4 Hunters
South African Plains Game Safari for 4 Hunters
Many other desirable items will be auctioned at the Gala.
Tickets are only $69!
Click here to order your tickets.
Or call (714) 992-2772
About:
The California Rifle and Pistol Association "CRPA," founded in 1875, is dedicated to defending the rights of law-abiding citizens to responsibly use firearms for self-defense and the defense of their loved ones, for sport, and for all other legal activities. CRPA is the official state association of the National Rifle Association. A California non-profit association, CRPA is independently directed by its own Board of Directors. CRPA's members include law enforcement officers, prosecutors, professionals, firearm experts, the general public, and loving parents. CRPA has always worked to reduce the criminal misuse of firearms and firearms accidents, while actively promoting and organizing the competitive shooting sports and Olympic training programs in California. We are proud to say that many CRPA competitors are among the best in the world. Visit: www.crpa.org