Cheaper Than Dirt! Interviews LaserLyte Vice President Aaron Moore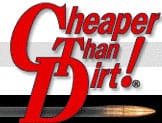 Fort Worth, TX –-(Ammoland.com)- Every year, Cheaper Than Dirt! sends a team of buyers to the SHOT Show to scour the show floor and seek out the best and most innovative products so that they can bring them to their customers at prices that are, well, cheaper than dirt.
Among the thousands of vendors, distributors and manufacturers, Larry and Aaron Moore's company LaserLyte always stands out with their innovative product lines.
LaserLyte was founded by Larry Moore and recently joined by his son Aaron Moore. Aaron's background in engineering is a valuable asset to LaserLyte, but what struck us was his innovative designs. We asked Aaron if it was any coincidence that LaserLyte came out with their tongue-in-cheek pistol bayonet from KA-BAR not long after he joined his father's company in 2002.
He chuckled and said, "Yes, That idea actually came up while having a few beers with someone from KA-BAR. We were initially joking about it at first, but the next day I kept thinking about it. I talked to my father about it, and he thought it was a crazy idea at first, but I kept developing it. I drew up a design and he still thought it was crazy, and when I went back to KA-BAR with it they thought I was crazy too. Eventually we got to the stage where we were tooling up for production, which is very expensive, and everyone still thought it was a crazy product. But, we stuck with it and people loved it."
LaserLyte products aren't just kooky, their line of laser aiming devices are revolutionary in their design and built to withstand the rigors of combat.
The newest of these devices is their Rear Sight Laser. Now available for more than a dozen firearm models, this new aiming system replaces the rear sight of a pistol or rifle and incorporates a tiny laser designator and power system into the sight. This allows for traditional sighting using the iron sights of the firearm, as well as the use of the laser aiming system with just the press of a button. Talking with Aaron, we discovered that this tiny device took years of design and a bit of luck as the technology became smaller and smaller.
"Our rear sight laser aiming system really came about as a happy accident. We'd been developing laser aiming systems for pistols that could be used with a normal holster for some time, but the technology really hadn't gotten small enough yet.

One day we received a shipment from one of our suppliers that had been sent to us in error, and in the package were these tiny laser systems.
The supplier called us and said "Hey, we accidentally sent the wrong thing to you, and we need it back." We replied "No way! We need about 10,000 of these lasers as soon as you can get them to us!" and that began the development of our rear sight laser. Within a few months we had designed and put into production rear sight lasers for more than half a dozen different pistol models."
Along with their laser aiming systems, LaserLyte has recently made their LT-PRO laser training module even more useful for dry fire practice with a reactive target system. Ideal for competitive shooters, or anyone who wants to improve their skills without having to burn through ammunition at the range, the new TLB1 Laser Training Target gives you immediate feedback on your shots. We asked Aaron to describe how the system works:
"[The LT-PRO] is a laser module that fits flush in the barrel of just about any pistol or revolver .38 caliber on up to .45 caliber. With traditional dry fire practice, you don't get any feedback. You don't know where your point of impact would be. The LT-PRO is basically a sound activated device that flashes a laser beam for 100 milliseconds, indicating the point of impact when you pull the trigger. It also allows you to use your normal competition or concealed carry holster so that you can practice drawing and presenting that first shot.
The TLB1 Laser Training Target works with our LT-PRO. Basically you can dry fire a string of shots at the target, and then fire the laser at the red display circle on the left and the target will illuminate the point of impact for each shot. Fire another laser beam at the reset circle on the right, and the target clears your shots and resets for the next string."
Customers can expect to see more products from LaserLyte that span the spectrum from enormously useful to a bit kooky or just "tacti-cool", like the new double barrel shotgun quad rail adapter. Some may dismiss it as useless, but Aaron claims that while it may seem like a way to make a traditional long arm "tacti-cool", it actually has a very useful purpose:
"The double barreled shotgun is a very popular home defense firearm, but the design doesn't lends itself to adding on accessories like a light or laser aiming device. Stoeger has come out with a tactical double barrel shotgun with integral rail systems, but older models aren't equipped as such. We saw the need for an add-on rail and developed the double barrel quad-rail. Some people may laugh at a product like that, but it turned out to be enormously useful, and popular as well."
Unlike many of the vendors and manufacturers we saw at the 2011 SHOT Show, all of these products are available now. LaserLyte doesn't believe in bringing prototypes to the show and then promising to actually sell them at some future date. Nearly every product they had on display is actually available online or at our retail store right now.
Cheaper Than Dirt! prides itself on being America's Ultimate Shooting Sports Discounter since 1993. Cheaper Than Dirt boasts over 24,000 items available for purchase through their website and catalog. For most items, Cheaper Than Dirt offers a generous 30 day return policy. For more information, or to place and order, visit www.CheaperThanDirt.com or call 800-421-8047. Most orders ship within 3 hours.
LaserLyte, the leader in laser technology, is the shooting and hunting division of P&L Industries. The company strives to heighten the experience of shooting by offering high quality, competitively priced lasers and other firearms accessories. For additional information about LaserLyte, visit www.LaserLyte.com.