Chevrolet Receives NWTF Corporate Achievement Award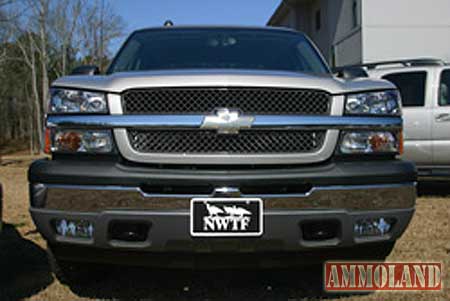 EDGEFIELD, S.C. –-(Ammoland.com)- NASHVILLE, Tenn. –-(Ammoland.com)- Chevrolet has been awarded the National Wild Turkey Federation's prestigious Corporate Achievement Award for outstanding efforts in promoting wildlife conservation and hunting.
A long-term partner of the NWTF, Chevrolet received the award during the NWTF's 35th annual National Convention and Sport Show, which took place at the Gaylord Opryland Resort and Convention Center in Nashville, Tenn.
"Chevrolet is honored to receive this award," said Kevin Messmer, Chevrolet's field manager for the Southeast region. "We appreciate the opportunity to work with NWTF and demonstrate our commitment to conservation and the men, women and children who enjoy the outdoors. We are looking forward to a successful 2011, our seventh consecutive year with the NWTF."
Chevrolet is the official vehicle of the NWTF, the leader in upland habitat conservation. A subsidiary of General Motors, Chevrolet partners with the NWTF in various ways to further the NWTF's mission of conserving wild turkeys and preserving our hunting heritage. The partnership makes the Chevrolet brand more accessible to millions of Americans.
"We are proud of our relationship with Chevrolet," said Mike Cleary, NWTF's senior vice president of marketing and field operations. "Chevy's commitment to improving our environment and conserving our natural resources makes them a natural fit for the NWTF. Congratulations to Chevrolet for earning this prestigious award."
Chevrolet first partnered with NWTF in 2005 and has since provided hundreds of thousands of dollars for conservation. Thousands of NWTF members have test-driven Chevrolet vehicles at the NWTF's National Convention and Sport Show. The Chevy Ride and Drive is a favorite at the show, and is just one way NWTF members learn more about Chevrolet products. Additionally, thousands of members have visited Chevy showrooms to test drive and purchase vehicles.
For more information about Chevrolet, visit www.chevrolet.com.
About the NWTF: The National Wild Turkey Federation is the leader in upland wildlife habitat conservation in North America. A nonprofit organization dedicated to conserving the wild turkey and preserving our hunting heritage, the NWTF and its volunteers work closely with state, federal and provincial wildlife agencies and other partners.
Through these dynamic partnerships, the NWTF and its members have helped restore wild turkey populations throughout North America, spending more than $331 million to conserve nearly 16 million acres of habitat. Wild turkeys and hundreds of other species of upland wildlife, including quail, deer, grouse, pheasant and songbirds, benefit from this improved habitat.
The NWTF also brings new conservationists and hunters into the fold through outdoor education events and its Women in the Outdoors, Wheelin' Sportsmen, JAKES and Xtreme JAKES youth outreach programs. Dedicated NWTF volunteers introduce about 100,000 people to the outdoors through these programs every year.
Founded in 1973, the NWTF is headquartered in Edgefield, S.C., and has local chapters in every state and Canada. According to many state and federal agencies, the restoration of the wild turkey is arguably the greatest conservation success story in North America's wildlife history.
To become a member of the NWTF, join a committee or start a chapter, visit www.nwtf.org or call 800-THE-NWTF. The NWTF is also at www.facebook.com/theNWTF.