Congressional Sportsmen's Foundation Welcomes Sportsmen's Champions to 112th Congress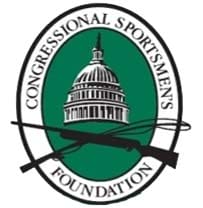 Washington, DC –-(Ammoland.com)- The Congressional Sportsmen's Foundation (CSF) celebrated the return of members of the Congressional Sportsmen's Caucus (CSC) to Washington for the 112th Congress Tuesday night with a "Welcome To Congress" reception at the Rayburn House office building.
Thirty members of the United States Congress joined over 150 hunting, fishing, and conservation leaders, policy makers, and industry representatives for this yearly event to introduce newly elected representatives to the CSC as well as welcome past and present members.
"There are many caucuses on Capitol Hill, but the Congressional Sportsmen's Caucus is the largest, most active and effective caucus in Washington and this event is a vivid illustration of our shared commitment to this nation's outdoor heritage," said CSC Senate Co-Chair, Sen. John Thune of South Dakota.
"As a lifelong hunter and angler and knowing the importance of hunting and fishing to my constituents, I feel strongly that it is my duty to protect the heritage and outdoor opportunities for sportsmen and women across the country," said CSC House Co-Chair, Rep. Mike Ross of Arkansas. "The future of our fish and wildlife depend a great deal on the Congressional Sportsmen's Caucus and the work we do in Washington."
This year's reception focused on legislative issues of concern to sportsmen coming in the 112th Congress and served as an opportunity for the sportsmen's community to meet their elected champions in Washington.
"This turnout of CSC members illustrates their dedication and commitment to the outdoor traditions of hunting and fishing," said CSF President Jeff Crane. "The American sportsman has an effective group of champions in Washington who continue to lead the way in improving hunting, fishing, and conservation opportunities.
This year's "Welcome" title sponsor was Amgen and the event was hosted by the American Petroleum Institute and Oracle, and participating as co-hosts were the Accord Group, Anheuser-Busch, Association of Fish & Wildlife Agencies, Bluewater Strategies, Capitol Hill Consulting Group, Cauthen, Forbes & Williams, Cornerstone Government Affairs, Crossroad Strategies, Ducks Unlimited, Ervin Technical Associates, Kimball & Associates, Natural Resource Results, National Marine Manufacturing Association, National Rifle Association, PAC/WEST, Patrick Raffaniello, Polaris Consulting, Safari Club International, SeaWorld Parks & Entertainment, and Watershed Results.
About:
The Congressional Sportsmen's Foundation celebrated its 20th anniversary in 2009. Throughout this time, CSF has maintained a singleness of purpose that has guided the organization to become the most respected and trusted hunting and fishing organization in the political arena. Visit: www.sportsmenslink.org