Galazan Premium Galleries Now Exhibiting The A-10 American Shotgun
The A-10 American is now being presented through four select Galazan Premium Gallery Partnerships.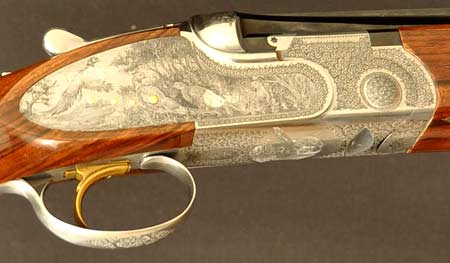 Connecticut Shotgun Manufacturing Company has partnered with four distinguished gun dealers to form Galazan Premium Galleries where the public can see and hold the A-10 American without making the trip to Connecticut.
The Galazan Premium Galleries are located at Cook-Winston & Company in Boerne, TX; Puglisi Gun Emporium in Duluth, MN; Steve Barnett Fine Guns in West Point, MS; and John Foster Gunmakers in Carlton, Stockton-on-Tees, England.
These well-established Gunrooms have the knowledge and expertise to exhibit and explain the A-10 American in full detail. The Galleries will stock multiple versions and configurations so enthusiasts may see and hold one even if they do not live near Connecticut. Aside from Connecticut Shotgun, these Premium Galleries are the only sources by which a new A-10 American may be ordered.
For more information on these Galleries, visit www.connecticutshotgun.com. For more information on the A-10 American, visit www.a10american.com or call Connecticut Shotgun Mfg. Co. at (860)225-6581.
Connecticut Shotgun Mfg. Co. was founded in 1975 by the current president Antony Galazan. The company's established principle of producing the finest American shotguns has previously been realized through their popular RBL series, the innovative A-10 American, the handcrafted A. Galazan over/unders and the modern reproductions of the A.H. Fox, Parker, and Winchester Model 21.