Leupold Continues Optics Innovation With New FireDot Reticle System
BEAVERTON, Ore. –-(Ammoland.com)- Leupold's long history of optics innovation for hunting continues with the new illuminated FireDot Reticle System, now available exclusively in VX-R riflescopes.
The system includes five different reticle choices: FireDot Duplex, Ballistic FireDot, FireDot Circle, FireDot 4 and the FireDot Pig Plex.
A fiber optic light pipe with a meticulously cut and polished tip provides an illuminated dot, which can be easily seen in bright light, yet is not overpowering in low-light conditions. Once activated, the dot illuminates with bright, sharp definition, while the rest of the reticle remains non-illuminated.
This combination leads the eye naturally to the center aiming point and makes target acquisition quick, precise and simple.
"The tried-and-true Duplex reticle was invented by Leupold in the early 1960s; our FireDot Reticle System continues that tradition of innovation," said Pat Mundy, communications manager for Leupold & Stevens, Inc.

"An all-new fiber optic LED illumination method is employed for the FireDot, which offers reticle options for a wide range of hunting applications."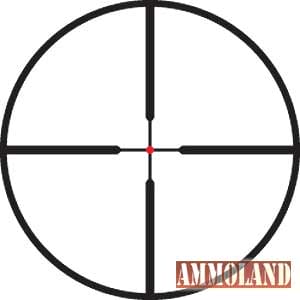 Designed for fast target acquisition, each FireDot reticle features an extra-bright centerpoint dot. The FireDot Duplex has the versatility for a broad range of game. Ideal for extended-range shooting, the Ballistic FireDot is well suited for varmint, antelope and big game at longer distances.
The FireDot Circle is designed specifically for fast-moving targets, including dangerous game, pigs and even turkeys. With its bold post, the FireDot 4 helps draw the eye to the center of the reticle and keeps the upper field of view free of obstructions. The FireDot Pig Plex is calibrated to frame up a mature hog and provide just the right amount of lead on running boars.
VX-R riflescopes feature a single push button illumination system with Leupold's own Motion Sensor Technology (MST™). A touch of the button illuminates the dot within the reticle. By repeatedly pressing the button, the user can select between eight different intensity settings including a high-low indicator, which flashes when either the maximum or minimum intensity is reached. After five minutes of inactivity, the illumination system automatically switches to stand-by mode, but reactivates at the same intensity setting whenever the rifle is moved. This helps extend battery life and, by reducing movement, allows the hunter to maintain greater stealth in the field.
VX-R models include 1.25-4x20mm, 2-7x33mm, 3-9x40mm, 3-9x50mm, 4-12x40mm and 4-12x50mm. Each is available with one or more of the FireDot reticle options. The illumination system is powered by a CR-2032 coin cell battery, readily available around the country
Sporting Leupold's familiar Golden Ring, VX-R riflescopes are backed by the company's Full Lifetime Guarantee. Riflescopes with illuminated reticles are legal for use in all states that allow centerfire rifles for big game hunting. For more information, visit a local dealer, go to www.leupold.com or call 1-800-LEUPOLD.
Leupold & Stevens, Inc., the preeminent American-owned and -operated optics company, employs more than 700 people in its state-of-the-art facility near Beaverton, Ore., where rugged, dependable, high-performance Golden Ring® optics, Mark 4® riflescopes and Redfield® Revolution™ riflescopes are designed, machined and assembled. Leupold is a fifth-generation, family owned company whose products are sold worldwide to hunters, competitive shooters, American military warfighters, law enforcement personnel and wildlife observers. The product line includes rifle, handgun and spotting scopes; binoculars; rangefinders; flashlights; trail cameras; mounting systems; and optical tools and accessories.