Leupold Tactical Optics Offers New Integral Mounting System for a Rock-Solid Riflescope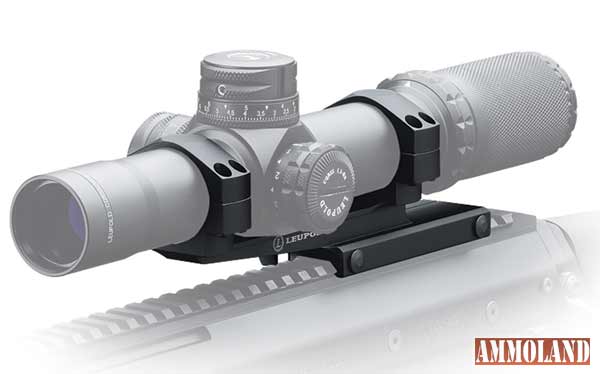 BEAVERTON, Ore. –-(Ammoland.com)- Leupold's Tactical Optics Division introduces the Integral Mounting System (IMS), now available in Mark 1, Mark 2, Mark 4 and Mark 8 configurations for riflescopes commonly used by American military warfighters, law enforcement personnel and competitive shooters.
Created specifically for most AR and other tactical rifles, the IMS features a monolithic, cantilever design for strength and durability under the harshest conditions. Formed from one piece of aluminum bar stock, the integral base/ring eliminates problems associated with the two most common issues faced when mounting standard riflescopes to AR-style rifles: scope height and eye relief.
"Like Leupold riflescopes, the IMS is extremely rugged and reliable," said Kevin Trepa, vice president of tactical sales and marketing for Leupold & Stevens, Inc. "It can be counted on for rock-solid scope mounting and repeatable accuracy, mission after mission, shot after shot."
The IMS's one-piece construction includes pre-set ring spacing, which allows easy mounting of the scope. It also provides for highly accurate return-to-zero because the user needs to mark only one location on the rail.
Leupold's IMS comes in a matte back finish and can be used for mounting riflescopes with one- inch, 30mm and 34mm maintubes.
Leupold Tactical Optics undergo arduous environmental and impact testing to ensure they meet the highest quality standards for durability and dependability. Leupold Tactical Optics are backed by the company's long history of customer-satisfying warranties as well. For warranty information on specific products, call 1-800-LEUPOLD or 503-526-1400. For additional product information, go to www.leupold.com.
Supported by a team of dedicated engineers, the Leupold Tactical Optics staff works with American warfighters, law enforcement personnel and competitive shooters to design and build products that meet their needs. Currently, more long-range Leupold Tactical Optics are in service with the U.S. military than any other brand.
Leupold & Stevens, Inc., the preeminent American-owned and -operated optics company, employs more than 700 people in its state-of-the-art facility near Beaverton, Ore., where Mark 4 and Golden Ring optics are designed, machined and assembled. Leupold & Stevens, Inc. is a fifth- generation, family-owned company. The product line includes rifle, handgun and spotting scopes; binoculars; rangefinders; trail cameras; flashlights; mounting systems; and optical tools and accessories.