Michigan DNRE Forest Managers Release Report on Health of State Forest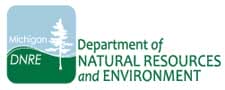 Michigan –-(Ammoland.com)- With 19.3 million acres of forestland, Michigan's forests play a key role in the state's recreation, timber and other industries.
These industries employ 136,000 people and contribute $14 billion annually to the state's economy, so ensuring the health of Michigan's forests is essential.
"Every year, insects and diseases pose a significant threat to our state's woodlands, and in turn, forest-based recreation and timber industries," said Department of Natural Resources and Environment (DNRE) Forest Management Division Chief Lynne Boyd. "Forest Management Division staff is dedicated to identifying pests and eliminating them from our forests."
The DNRE has released the 2010 Michigan Forest Health Highlights, an informative overview of Michigan's forests and the various insects and diseases that have threatened them over the past year.
During 2010, Michigan forests saw invasion by exotic organisms that hitchhiked their way into forests on nursery stock, logs, wooden pallets and firewood. Beech bark disease, emerald ash borer infestation and oak wilt have killed millions of trees around the state and outbreaks can be traced directly to firewood movement.
"Firewood can harbor a variety of potentially damaging insects and diseases," said Ron Murray, DNRE forest health specialist. "I hope Michigan residents will do their part to help slow the spread of these diseases." What can be done to help? "Don't move firewood," said Murray. "It's a small action that would help tremendously."
To learn more about threats faced by our forests and work done to protect them, check out the 2010 Michigan Forest Health Highlights. Color photos identify pests and diseased tree symptoms. The 2010 Michigan Forest Health Highlights is available online at www.michigan.gov/foresthealth.
The Department of Natural Resources and Environment is committed to the conservation, protection, management and accessible use and enjoyment of the state's environment, natural resources and related economic interests for current and future generations. Learn more at www.michigan.gov/dnre.