Michigan DNRE Rescues Injured Bald Eagle in Genesee County & Seeks Information on Its Shooting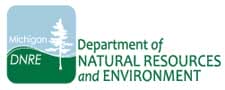 Michigan –-(Ammoland.com)- Several DNRE employees led the team that rescued an injured bald eagle in Genesee County's Gaines Township last Thursday. Medical examination and x-rays revealed that the eagle has been shot, and DNRE officials are seeking information about the shooting.
The eagle was recovered on the Gaines Township/Argentine Township line near Ray and Van Vleet Roads. It likely did not fly far from the location it was shot.
"We urge anyone who knows anything about this shooting to help us find whoever is responsible," said DNRE Law Enforcement Chief Gary Hagler. "The injured eagle was rescued thanks to a call from a concerned citizen, and we hope others step forward with information that leads to the arrest of the person who shot one of our national emblems."
Anyone with information pertaining to this investigation is encouraged to call the DNRE's Report All Poaching (RAP) line at 800-292-7800. Information can be provided anonymously. Those providing information leading to an arrest and conviction are eligible for a cash reward funded by the Game and Fish Protection Fund. An online form to report poaching violations is available on the DNRE's Web site at www.michigan.gov/conservationofficers.
Last week, a Genesee County resident contacted the local DNRE office after he spotted the injured bald eagle near his property. DNRE wildlife biologists Julie Oakes and Jon Curtis, along with Conservation Officer Mark Papineau, responded and located the bald eagle, a male estimated to be approximately five years old. Despite its broken wing, the eagle was still very mobile and eluded capture.
The DNRE called upon several individuals with expertise in birds of prey, including sport falconer Jeff Alkire, wildlife rehabilitator Dave Hogan, and Bonnie VanDam and Tom Schneider, avian experts from the Detroit Zoo. With their assistance, the bald eagle was successfully rescued and turned over to Hogan, who examined it and discovered it had been shot.
"We want to thank the team that helped us rescue this majestic bird," said Hagler. "We hope that it can be rehabilitated and returned to the wild."
Bald eagles first received federal and state protection in Michigan in 1940 and 1954, respectively. They continue to be protected by the Federal Migratory Bird Treaty Act, the Federal Bald and Golden Eagle Protection Act, and the Michigan Endangered Species Protection law. Under these laws, a person may not kill, harass, disturb or otherwise harm bald eagles.
The Department of Natural Resources and Environment is committed to the conservation, protection, management, and accessible use and enjoyment of the state's environment, natural resources, and related economic interests for current and future generations. Learn more at www.michigan.gov/dnre.