Michigan DNRE Seeks Help from Public to Detect Presence of Wolves in Northern Lower Peninsula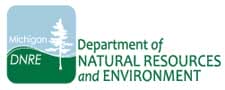 Michigan –-(Ammoland.com)- The Department of Natural Resources and Environment today announced it will conduct a survey in the northern Lower Peninsula Feb. 15 through March 14 to detect the presence of gray wolves in that region of the state.
"The purpose of the survey is to verify the presence of wolves both where we have previously confirmed animals and to detect new occurrences in other areas," said DNRE wildlife biologist Jennifer Kleitch.

"Given the low probability of observing a wolf or tracks in the Lower Peninsula it's helpful to have as many eyes looking as possible. That's why public reports are so important."
Wolves are a federally protected species that began naturally returning to Michigan's Upper Peninsula via Canada and Wisconsin in the early 1990s. Since that time populations have increased and continue to expand their range. Evidence of range expansion into the Lower Peninsula came when a gray wolf was accidentally killed in Presque Isle County in 2004. More recently, wolf breeding was verified in Cheboygan County in 2010.
The DNRE is asking the public to report any recent sightings of wolves or tracks they believe were made by wolves to the Gaylord Operations Service Center at 989-732-3541, ext. 5901 during the survey period. Reports of observations can also be submitted online at www.dnr.state.mi.us/wildlife/pubs/wolf_obsreport.asp.
Survey teams will be searching areas where there have been one or more observations. Priority will be placed on recent reports and those submitted during the survey period.
"It's important that observations are reported in a timely manner so we can work with fresh evidence. If the public finds what they believe are wolf tracks, they should preserve the physical evidence and disturb it as little as possible or take a photo of the tracks alongside a ruler," Kleitch said. "If someone has a photo of a wolf in the Lower Peninsula, we'd certainly be interested in that as well."
Information on wolves in Michigan and links to other wolf-related web pages can be found at www.michigan.gov/wolves.
The DNRE is partnering in this survey effort with US Department of Agriculture's Wildlife Services, the Little Traverse and Grand Traverse Bay Bands of Odawa Indians, and The University of Michigan.
The Department of Natural Resources and Environment is committed to the conservation, protection, management, and accessible use and enjoyment of the state's environment, natural resources and related economic interests for current and future generations. For more information, go to www.michigan.gov/dnre.