Michigan Natural Resources Commission to Meet Feb. 10 in Lansing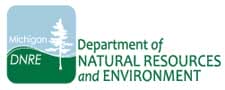 Michigan –-(Ammoland.com)- The Michigan Natural Resources Commission will hold its regular monthly meeting Thursday, Feb. 10, at the Diagnostic Center for Population and Animal Health located at 4125 Beaumont Rd. in Lansing.
Prior to the Committee of the Whole meeting, the NRC Policy Committee on Wildlife and Fisheries will meet at 2 p.m. in Room 101. The committee will receive updates from Department of Natural Resources and Environment Wildlife Division Chief Russ Mason and Fisheries Division Chief Kelley Smith. The committee also will receive a presentation on a proposal brought forward by hunting groups to implement antler point restrictions on Beaver Island, and Dr. Tammy Newcomb of the Fisheries Division will give a presentation on environmental DNA.
At 3 p.m., the Committee of the Whole will convene in Room 101. The committee will receive a report from Department of Natural Resources Director Designate Rodney Stokes, a legislative update from DNR Legislative Liaison Gary Owen, and the final presentation in a series of presentations on the biology of bovine tuberculosis.
At 4:15, the NRC will announce the winners of the 2011 Pure Michigan Hunt drawing. Winners are selected by random drawing for the opportunity to participate in every limited-access hunt available – elk, bear, spring and fall wild turkey, and antlerless deer. In addition, they will get the first pick of a hunting zone in a managed waterfowl area reserved hunt.
Public appearances before the NRC will begin at 4:30. Persons wishing to make public comments to the commission should contact Deb Whipple, the NRC's executive assistant, at [email protected] or by calling 517-373-2352 to sign up prior to the meeting. Persons can also sign up the day of the meeting at the meeting location.
At 5 p.m., there will be a presentation of a Partner in Conservation Award to the St. Clair Flats Waterfowlers and the Harsens Island Waterfowl Hunters Association.
Among the items eligible for NRC action are proposed changes to mute swan management. Among the items eligible for action by Director Designate Stokes is the authorization of three land transactions by the department.
For more information on the NRC, including the agenda, informational memos for this meeting, and past meeting minutes, go to www.michigan.gov/nrc.
The Department of Natural Resources and Environment is committed to the conservation, protection, management, and accessible use and enjoyment of the state's environment, natural resources, and related economic interests for current and future generations. Learn more at www.michigan.gov/dnre.