Missouri Constitutional Amendment Would Help Protect Sportsmen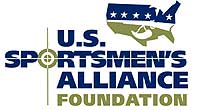 Columbus, OH –-(Ammoland.com)- A constitutional amendment has been proposed in Missouri that would help prevent anti-hunting groups from attacking hunting, fishing and trapping at the ballot box.
Take Action! Missouri sportsmen are urged to contact their legislators and ask them to support House Joint Resolution 15.
Tell them the amendment will help protect conservation and science based wildlife management.
House Joint Resolution 15, introduced by Representative Don Ruzicka (R- Mt. Vernon), would require a two-thirds majority vote to pass any ballot issue dealing with the harvest of fish, wildlife, or forest resources. Currently, ballot initiatives in the state only require a simple majority of the vote to pass.
For the amendment to take effect it must first pass both chambers of the legislature and then be approved by voters.
Anti-hunting groups often turn to the ballot box when they are unable to sway lawmakers into passing anti-hunting, fishing, and trapping measures. These ballot campaigns often use emotional rhetoric instead of scientific facts and cost millions of dollars to defend against.
"This amendment would go a long way toward protecting Missouri sportsmen from anti-hunting attacks at the ballot box," said Evan Heusinkveld, U.S. Sportsmen's Alliance director of state services. "Sportsmen should ask their legislators to help protect hunting and science based wildlife management in the state by supporting this amendment."
To find your state legislators' contact information, please visit www.ussportsmen.org/LAC.
About:
The U.S. Sportsmen's Alliance is a national association of sportsmen and sportsmen's organizations that protects the rights of hunters, anglers and trappers in the courts, legislatures, at the ballot, in Congress and through public education programs. Visit www.ussportsmen.org.