SOG Jungle Warrior & Canopy Knives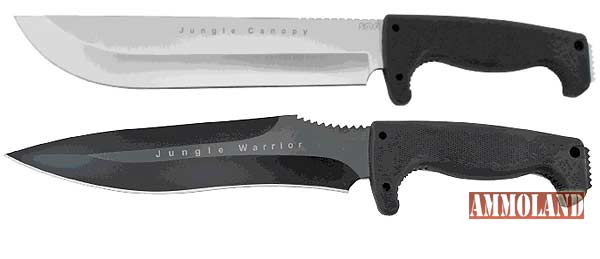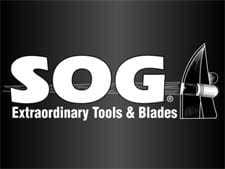 Lynnwood, Washington –-(Ammoland.com)- For the primitive in all of us. When the only thing that separates you from them is your equipment, it better be good.
The Jungle series is durable and comfortable with a molded Kraton handle that features our trademark Digi-Grip handle texture, a way to guarantee gripping power where you need it.
Now with three distinctive blade shapes there is one for every taste. The Primitive is hard to categorize between a big knife, a small machete, or a survival tool as its talents lie in chopping, slicing, sawing, pounding, etc.
The Canopy and Warrior feature thicker blades and new blade grinds. All three include a Nylon sheath with utility pouch.
Don't be caught alone!
SOG Canopy Knife
Part # F15-N
MSRP: $70.00
Length: 15.25"
Blade: 10" x .190"
Weight: 19.4 oz.
Steel: Crl3MoV Stainless Rc. 56-58
Finish: Black Oxide
Edge: Straight
Handle: Kraton
Comes With: Nylon Sheath
SOG Jungle Warrior Knife
Part # F14-N
MSRP: $80.00
Length: 15.5"
Blade: 10" x .190"
Weight: 19.4 oz.
Steel: 8Crl3MoV Stainless Rc. 56-58
Finish: Black Oxide
Edge: Straight
Handle: Kraton
Comes With: Nylon Sheath
About:
SOG was an acronym which stood for Studies and Observations Group. Sanctioned to develop and purchase their own equipment, SOG created several knives for use in one of the harshest environments in the world. It was in the spirit of this elite group, and the quality equipment they commissioned, that SOG Specialty Knives and Tools was founded in 1986 by Spencer Frazer. Visit: www.sogknives.com