Stag Arms Sponsors 3 Gun Nation Tour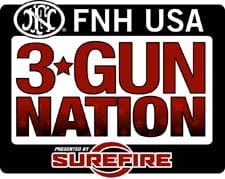 USA –-(Ammoland.com)- 3-Gun Nation is proud to announce it has reached a partnership agreement with Stag Arms, a leading manufacturer of AR-15-style semi-automatic rifles.
The agreement will position Stag Arms rifles at select 3-Gun Nation Shoot-Offs throughout the remainder of the 2011 3GN Tour.
"Stag Arms has chosen to sponsor 3-Gun Nation because it is the premier outlet for the shooting sports' fastest growing and most active segment, 3-gun competition," said Mark Malkowski, President, Stag Arms.
With the growing footprint of 3-Gun Nation, Stag Arms rifles will be used in various 3-Gun Nation Shoot-Offs, including the new Team Event, sponsored by Brownells, which will include junior and lady competitors. Stag Arms will also be used in select main events throughout the 2011 FNH USA 3-Gun Nation Tour, presented by SureFire, where the top eight competitors from the match will compete head-to-head in the 3-Gun Nation Shoot-Off.
"That positioning will put Stag products in the hands of junior competitors, the top lady shooters and the top overall 3-gun competitors in the country as each vies for the prize money on our 3GN Tour," said Pete Brown, President, 3GN.

"We're extremely pleased to have Stag in the 3-Gun Nation family of sponsors, helping us in our efforts to grow this sport. Also, thanks to Cheaper Than Dirt!, this season will also feature a new season-long points race for both the lady and junior divisions, and we couldn't be more pleased to have Stag help support us as we push forward in our efforts in growing the sport creating our TV show."
"Since we began this venture last year, we've made it a priority to bring in more gun companies under the 3GN banner," added Chad Adams, Vice President, 3GN. "We feel it's extremely important that we integrate as much of the firearms industry as possible into the 3GN Tour, as well as all of our media properties—a critical component in our effort to grow the entire sport."
The next event on the FNH USA 3-Gun Nation Tour, Presented by SureFire, is the Superstition Mountain Mystery 3-Gun, March 25-27 in Mesa, Ariz.
For more information, visit www.3GunNation.com.