Theodore Roosevelt Conservation Partnership Presents 2011 Policy Agenda
Sportsmen offer 'conservation roadmap' for navigating challenges facing fish and wildlife funding and management in the year to come.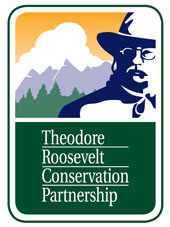 WASHINGTON –-(Ammoland.com)- The Theodore Roosevelt Conservation Partnership today announced the release of its 2011 Conservation Policy Agenda, presenting conservation issues of importance to American hunters and anglers and outlining the sportsmen's priorities for the coming year.
By organizing hunting, angling and conservation groups, labor unions and individual grassroots partners, the TRCP works to strengthen the laws, policies and practices concerning fish and wildlife conservation and hunting and fishing in the United States.
The combined voices of TRCP partners help advance conservation policy solutions benefiting the nation's sportsmen, thereby helping the TRCP guarantee every American quality places to hunt and fish.
"In this, a time of budget austerity, we at the TRCP continue to maintain the necessity of safeguarding our shared natural resources through responsible management, up-to-date regulations and laws, and strongly funded conservation programs," said TRCP President and CEO Whit Fosburgh. "The TRCP's Conservation Policy Agenda represents our priority issues in 2011 and offers a conservation roadmap to the administration and Congress."
Issues highlighted in the TRCP 2011 Conservation Policy Agenda include the following:
Strongly funded agricultural- and private-lands conservation programs through legislation such as the Farm Bill
The need to safeguard fish and wildlife resources during the planning and development of conventional and renewable energy projects on public and private lands
Common-sense reform of U.S. mining laws to restore habitat and conserve important natural areas threatened by mining activities
Conservation of the nation's clean waters and the outdoor opportunities they enable
Responsible management of our saltwater fish resources and restoration of degraded marine ecosystems
Conservation of pristine backcountry habitat from development to ensure a strong future for public lands hunting and fishing
Commitment to fully funding the Land and Water Conservation Fund and permanently establishing the Conservation Easement Tax Incentive program
"America's hunting and fishing traditions depend on responsible management of our lands, waters and the species that inhabit them," said Dr. Steve Williams, president of the Wildlife Management Institute, former director of the U.S. Fish and Wildlife Service and chairman of the TRCP policy council. "The TRCP's success in advancing conservation policy that benefits fish, wildlife and sportsmen lies in the partnerships it brokers and the combined strength that these coalitions bring to Washington."

"Theodore Roosevelt never wavered in his conviction that the U.S. conservation movement is above all an exercise in democracy," said Jim Martin, chairman of the TRCP board of directors, "and his goal was 'to give reasonable opportunities for the exercise of the skill of the hunter, whether he is or is not a man of means.'

"The TRCP continues to seek opportunities and explore new ideas that can benefit fish, wildlife and their habitat," Martin concluded, "and we remain committed to ensuring a brighter future for the American sportsman – regardless of means – and for our nation's outdoor way of life."
Read the TRCP 2011 Conservation Policy Agenda.
TRCP 2011 Conservation Policy Agenda
About:
Inspired by the legacy of Theodore Roosevelt, the TRCP is a coalition of organizations and grassroots partners working together to preserve the tradition of hunting and fishing. Visit: www.trcp.org