Virginia Legislative Update from VCDL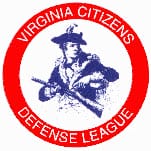 Covington VA –-(Ammoland.com)- Yesterday Senator Reynold's pneumatic gun bill, SB 757, passed the Senate and heads to the House, where it starts working its way through the committee structure all over again.
The following anti-gun bills were KILLED, er, actually, CRUSHED, tonight in the House Militia, Police and Public Safety subcommittee #1:
HB 1699 – Delegate McClellan's "gun show loophole" bill died by a vote of 4 to 1 (Delegate Keam voted for the bill).
HB 2343 – Delegate Morrissey's bill to criminalize the consumption of an alcoholic beverage in a restaurant by someone who is openly carrying a handgun died **unanimously.** A Richmond police officer in UNIFORM came to speak for all the gun control bills, including this one. That was awfully rich from someone who is allowed by the law to carry a concealed handgun and drink. What a hypocrite.
HB 2524 – Delegate Carr's bill to ban the sale, barter or transfer of magazines that hold 20 or more rounds died **unanimously.**
And Some Bad News
HB 1732 – Delegate Carrico's full recognition of out-of-state permits was withdrawn without comment
HB 2069 – Delegate Athey's Constitutional Carry bill (no CHP required) was withdrawn. Athey stated that he had drawn up the bill himself and didn't use Legislative Services. The bill is fatally flawed, he said, and could not be fixed unless it is reintroduced with a different description and all the technical mistakes fixed. That, he vowed to do next year.
Tomorrow (Friday) Delegate Jackson Miller's bill to change our concealed handgun permits into concealed weapon permits will come up in the full Militia, Police and Public Safety committee at 9 AM. It was recommended by subcommittee #1 to be sent off to the Crime Commission (which is a nice way of killing it). VCDL is asking that it be passed out of the Committee.
Also, Senator Vogel's state agency preemption bill comes up in front of the full Senate Rules Committee tomorrow at 10 AM. This committee has very few pro-gun members, so it faces an uphill battle. The bill was clearly sent to this committee by the Senate Democratic leadership to die. The good news is that Virginia has elections in November and hopefully we can elect more pro-gun Senators to replace the plethora of bad ones in the Senate.
About:
Virginia Citizens Defense League, Inc. (VCDL). VCDL is an all-volunteer, non-partisan grassroots organization dedicated to defending the human rights of all Virginians. The Right to Keep and Bear Arms is a fundamental human right. Visit: www.vcdl.org