Whitetails Unlimited Continues Support for National Archery in the Schools Program
More than $100,000 delivered by WTU and local chapters for NASP across the country.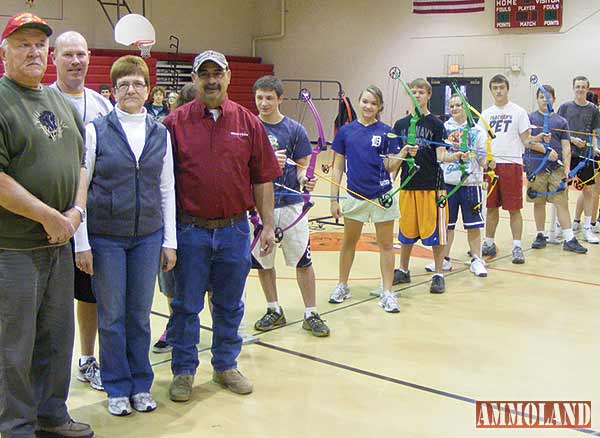 Ohio –-(Ammoland.com)-A little more than six years ago Whitetails Unlimited announced its support for the National Archery in the Schools Program.
Since then over $100,000 has been donated by WTU from local grassroots activities in support of the program across the United States.
NASP is active in nearly every state, and all states with a resident WTU field director (Florida, Illinois, Iowa, Maine, Michigan, Minnesota, Missouri, Nebraska, Ohio, Texas and Wisconsin) have an active NASP program. Michigan Field Director Jim Kurdziel reflects the kind of support that WTU members and staff have for the program. "NASP is well received by educators and parents, and the students have a ball," said Kurdziel. "And it's not just country schools – many big city schools have incorporated the program, and it's working fantastically every time it's used. There are state and national tournaments now, which adds even more incentive and excitement for the kids."
National Archery in the Schools Program is the most successful youth archery program to date, and during this school year more than 20,000 NASP certified instructors are expected to provide training for nearly 2 million young people in more than 9,000 schools. This is an amazing success story, and many local Whitetails Unlimited chapters choose to donate money to support NASP programs in their local schools.
This physical education program made its debut back on March 3, 2002, in Kentucky, and was called Archery: On Target for Life. NASP's mission is to promote student education through participation in the sport of archery, with the focus being to provide international-style target archery training in physical education classes in grades 4 through 12. Students have an opportunity to shoot at bull's-eye targets, which are placed in front of an arrow-resistant net in the school gymnasium. The equipment used is state-of-the-art and designed to fit every student. The core content of the program covers the history of archery, safety, shooting techniques, equipment, mental concentration, and self-improvement.
The program curriculum exceeds national physical education standards. Teachers and principals report that the archery program is extremely successful in engaging all students, and they also report improved behavior and attendance on archery days. In addition, it is noted that many students who normally don't participate in PE class, or who don't have success with other 'sports' are thrilled with archery.
National Archery in the Schools Program certified training is mandatory for all instructors. Of utmost importance to Whitetails Unlimited is the fact that NASP promotes participation in the shooting sports in a safe, educational indoor setting.
About:
Founded in 1982, Whitetails Unlimited is a national nonprofit conservation organization. Our mission is to raise funds in support of education, habitat enhancement and acquisition, and the preservation of the hunting tradition for the benefit of the white-tailed deer and other wildlife. When it comes to the whitetail and its environment, WTU's degree of professionalism and dedication has earned us the reputation of being the nation's premier whitetail organization. Visit: www.whitetailsunlimited.com