Win a Leupold Scope at NRAhuntersrights.org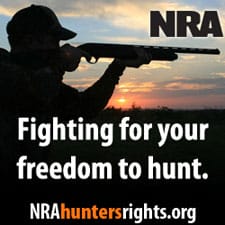 Fairfax, VA--(Ammoland.com)- One fortunate hunter will receive two great prizes in a special double gift giveaway this month on NRAhuntersrights.org: a brand new Leupold 3-9x40mm Ultimate Slam muzzleloader/shotgun scope and an NRA Gunsmithing Tool Set.
Leupold's UltimateSlam scope is finished in Mossy Oak treestand camo and features the company's Sabot Ballistics Reticle, which provides precise hold points for 50, 100, 150, 200, 250 and 300 yards. Simply set the Ultimate Slam's power selector to the icon matching the load you're shooting, and you've got precise aim points from 50 to 300 yards. Other features include ¼-MOA windage and elevation adjustments and Leopold's standard multicoated lens system. This model typically retails for $319.99. For more information, visit www.leupold.com.
Our second gift, the NRA Gunsmithing Tool Set, comes with screwdrivers, solid brass pin punches, and a solid brass hammer, all kept in a durable soft case. The eight screwdrivers are hand assembled and custom hollow-ground to fit scope, plug, guard, floor plate and sight screws. The screwdrivers feature square-shanked blades that are hardened and tempered and guaranteed not to twist or chip, while the handles are composed of Maine hardwood and feature the NRA letters. The eight brass pin punches are sized from 1/16" to 5/16," and each punch has "NRA USA" engraved on the side. The hammer is made from solid hand-polished brass with a hickory handle that showcases the NRA logo. The entire set is made in the USA and retails for $99.95. For more information, visit www.NRAstore.com.
TO ENTER the February Gift Giveaway, simply visit www.nrahuntersrights.org, scroll down to "Gift Giveaway" on the right side and follow the simple instructions. All you do is send an e-mail to the address provided, with "Gift Giveaway" in the subject line. There is no cost to enter. One winner will be selected for both gifts. Entries will be accepted now through Feb. 28.
For the most up-to-date information about your hunting rights there's just one source: www.NRAhuntersrights.org.