Georgia Income Tax Checkoff Helps Conserve Rare Animals & Plants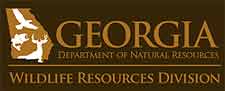 SOCIAL CIRCLE, Ga. –-(Ammoland.com)- Georgia's rare animals and plants need your help.
Conservation of this state's nongame wildlife – from sea turtles to southeastern American kestrels – as well as native plants and natural habitats is supported largely by the Georgia Wildlife Conservation Fund. In turn, the fund depends on public contributions.
One main source of contributions is the Give Wildlife a Chance state income tax checkoff. Yet giving through the checkoff has declined sharply since 2005.
The $205,000 donated in fiscal year 2010 marked the least amount since the 1990s.
What's at stake? The checkoff and the Wildlife Conservation Fund have played a role in Georgia's wildest success stories, such as the rebound of bald eagles and the acquisition of thousands of acres of prime habitat along the Altamaha River. This past year, fund-supported projects included the first coast-wide census of American oystercatchers and Wilson's plovers in 10 years, surveys that discovered rare amber and freckled darters in the Coosawattee River, and hands-on conservation that reached nearly 50,000 students at six regional education centers.
By using the Wildlife Conservation Fund to attract and match federal and private grants, the Georgia Department of Natural Resources' Nongame Conservation Section also gains about $1 for every 25 cents spent from the fund.
Nongame Conservation Assistant Chief Jon Ambrose has called the state income tax checkoff critical in "providing the match we need to get additional funding from other sources."
More than 1,000 Georgia plant and animal species are species of conservation concern. This spring, make your mark to help them: Fill in any amount more than $1 on line 26 of the state's long tax form (Form 500) or line 10 of the short form (Form 500EZ).
Visit www.georgiawildlife.com/node/338 for more information, or call Nongame Conservation Section offices in Social Circle (770-761-3035), Forsyth (478-994-1438) or Brunswick (912-264-7218). State income tax forms are available online at https://etax.dor.ga.gov/.
The Nongame Conservation Section receives no state appropriations for its mission to conserve nongame wildlife – native animals not legally hunted, fished for or trapped – and native plants and habitats. The sales of bald eagle and hummingbird license plates also benefit the agency and the Wildlife Conservation Fund. Details at www.georgiawildlife.com.