Louisiana Department of Wildlife and Fisheries Honors Biologist Michael Carloss with 2010 Conservation Achievement Award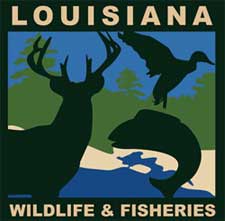 Louisiana – -(Ammoland.com)- The Louisiana Wildlife Federation honored Louisiana Department Wildlife and Fisheries (LDWF) Biologist Director Michael Carloss as a 2010 Conservation Achievement Award winner on March 19 at the federation's annual convention in Alexandria.
Carloss directed LDWF's Coastal and Nongame Resources Division wildlife rescue response to the Deepwater Horizon oil spill. That effort included coordination of federal agency resources for bird rescue within rookeries and nesting islands, and establishing rescue protocol for heavily populated bird habitat along the Louisiana coast.
A former president of the Louisiana Association of Professional Biologists, Carloss holds a bachelor's and master's degree from the University of Southwestern Louisiana (now UL-Lafayette) and is a 23-year state employee. He also worked for the U.S. Department of Agriculture's Natural Resource Conservation Service on coastal restoration issues.
Four other individuals and three organizations were also honored for their outstanding conservation achievements last year.
They are:
Ted Falgout, retired executive director of Port Fourchon, chosen to receive the Governor's Award – Conservationist of the Year for 2010;
Kenneth Sayes of Woodworth, owner of Sayes Office Supply in Alexandria, for volunteering his time and leadership skills to encourage local youth to participate in outdoor events;
Amy Griffin Ouchley of Farmerville for her environmental education leadership as a biology teacher, workshop instructor, and Volunteer Environmental Education Director for Black Bayou Lake National Wildlife Refuge;
William "Billy" Nungesser, Plaquemines Parish President, for developing the Parish Strategic Implementation Plan to proactively address coastal restoration and for his advocacy and leadership during the Deepwater Horizon oil spill to protect the coastal marsh of Plaquemines Parish;
The First Presbyterian Church of Bayou Blue for advocacy efforts at the regional and national level that explain the importance of Louisiana's wetlands and the need for coastal restoration by hosting national and international citizen leaders, visiting other coastal sites facing coastal erosion, and supporting local conservation projects;
Future Leaders of America's Gulf (FLAG), a youth organization in Houma started by high-school students in response to the Deepwater Horizon oil spill, for educating youth at the local and national level through media and social networking about the issues facing the future of the Gulf of Mexico; and
ExxonMobil Baton Rouge Complex for developing and implementing a wildlife restoration plan for ten sites in Louisiana through the leadership of its Wildlife Habitat Team and in partnership with Southern University.
The Louisiana Wildlife Federation is a statewide conservation education and advocacy organization with more than 10,000 members and 26 affiliate groups. Established in 1940, it is affiliated with the National Wildlife Federation and represents a broad constituency of conservationists including hunters, fishers, campers, birders, boaters, and other outdoor enthusiasts.
The Department of Wildlife and Fisheries is charged with managing and protecting Louisiana's abundant natural resources. For more information, visit us at www.wlf.louisiana.gov, on Facebook at www.facebook.com/ldwffb or follow us on Twitter @LDWF.