Missouri Bills Makes Sportsmen Liable For Wildlife Damage & Allows Unlimited Elk Harvest
Sportsmen Need to Contact Their Legislators Today in Opposition to These Measures.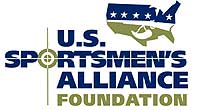 Columbus, OH –-(Ammoland.com)- House Bill 115, introduced by Rep. Rodney Schad (R- Versailles), and Senate Bill 299, introduced by Sen. Brian Munzlinger (D- Williamstown), would make Missouri hunters pay for any damage caused by wild elk in the state by holding the Missouri Department of Conservation financially liable.
The bills would also allow property owners to kill an unlimited number of elk without any proof that the elk are actually causing damage.
Specifically, the bills hold sportsmen financially responsible for any damage caused by elk to a person's property or for damage caused to vehicles. Additionally, the bill takes away the state's management authority of wild elk by allowing anyone to kill an elk that has caused damage to their property, even if the damage is minimal.
"It is outrageous to hold sportsmen financially responsible for damage caused by wildlife which is owned by all people of the state of Missouri," said Evan Heusinkveld, U.S. Sportsmen's Alliance director of state service.

"The bill only gets worse by stripping the Conservation Department of its authority to manage the states wildlife. Allowing an unlimited number of elk to be killed without any oversight of the Department, or confirmation of damage, is unconscionable. Sportsmen need to call their legislators today and tell them to oppose this bill."
Take Action! Missouri sportsmen should contact their state representatives and senators TODAY and ask them to oppose HB 115 and SB 299. Tell them it is outrageous for the state to pay for damage caused by wildlife and that authority of wildlife management should be left in the hands of wildlife professionals. To find your state legislators' contact information, visit the USSA Legislative Action Center at www.ussportsmen.org/LAC.
About:
The U.S. Sportsmen's Alliance is a national association of sportsmen and sportsmen's organizations that protects the rights of hunters, anglers and trappers in the courts, legislatures, at the ballot, in Congress and through public education programs. Visit www.ussportsmen.org.