Mule Deer Foundation Signs Mark LaBarbera as Chief Marketing & Development Executive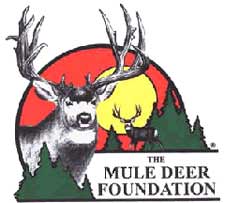 SALT LAKE CITY –-(Ammoland.com)- CEO Miles Moretti announced today that the thriving Mule Deer Foundation national conservation and hunting organization has signed Mark LaBarbera, principal of Arizona-based ML & Associates, as its Chief Marketing & Development Executive, effective immediately.
LaBarbera, a former NSSF Board member and well-known industry veteran, served as Executive Adviser to MDF during 2010, according to Moretti.
"Mark put the 'mark' in 'marketing,'" joked MDF COO/CFO Eric Tycksen, who said, "VP Ray Crow and Mark will be working together with industry partners on sponsorships, merchandising and other programs to build on the groundwork laid last year."
The Mule Deer Foundation is a national non-profit 501(c)(3). MDF's mission is to ensure the conservation of mule deer, black-tailed deer and their habitat.
"MDF reminds me a lot of our early days of building North American Hunting Club," said LaBarbera, adding "As people discover what MDF does for mule deer – which seem to be the species of the decade – and for the hunters who spend a disproportionate share of their income in pursuit of mule deer, MDF will keep adding marketing partners. Its magazine, its chapters and membership, its youth education events, its annual gathering and its impact on mule deer and mule deer hunters continues to grow."
LaBarbera was Sr. VP at NAHC, a founding director of Wildlife Forever, and OWAA President/Chairman, as well as a 2002 Finalist for Budweiser Conservationist of the Year. His credentials include serving on the Congressional Sportsmens Foundation Board and as I&E Chief for Minnesota DNR. An avid hunter with gun and bow, he also was an SCI executive, who oversaw its growth in sales, marketing and communications. LaBarbera continues also to advocate for the Hunting Heritage Trust, working closely with respected industry veteran President Bob Delfay.
MDF is dedicated to restoring, improving and protecting black-tailed and mule deer habitat resulting in self-sustaining, healthy, free ranging and huntable deer populations. It is also dedicated to encouraging and supporting responsible wildlife management; promoting public education and scientific research related to deer and wildlife management; supporting and encouraging responsible and ethical behavior and awareness of issues among those whose actions affect mule deer; and acknowledging regulated hunting as a viable component of mule deer and black-tailed deer conservation.
For information about the Mule Deer Foundation or to join please visit www.muledeer.org or call 1-888-375-3337. LaBarbera can be reached at 520-730-9252 or [email protected]