NRA University At Conservative Political Action Conference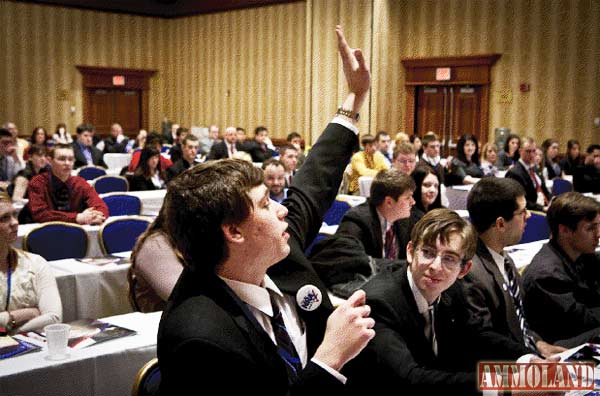 FAIRFAX, Va. –-(Ammoland.com)- Last month, NRA-ILA Grassroots staff conducted its volunteer training program at one of the nation's premier gatherings of conservative activists.
The program is NRA University (NRA U), our free, two-hour training seminar for college students interested in learning more about NRA, the gun control issue and how they may become more active, both on and off campus, in the fight to protect our Second Amendment rights. The event was the Conservative Political Action Conference (CPAC) in Washington, D.C., that drew college students from around the country, making CPAC an ideal venue for the NRA U seminar.
It's no secret that the Second Amendment frequently comes under attack on college and university campuses, through ignorance or deliberate mis- information campaigns. NRA U strives to help pro-gun college students level the playing field through education and training.
The CPAC NRA U, which featured an interactive and entertaining PowerPoint presentation, was conducted by ILA Grassroots Director Glen Caroline, along with Grassroots Coordinators Krista Cupp and Brent Gardner. And one of the highlights for the approximately 100 attendees was a surprise appearance by NRA's Executive Vice President, Wayne LaPierre.
NRA U is rapidly becoming one of our most popular and most requested programs. Last year, grassroots staff conducted dozens of these seminars on college campuses around the nation. This year, we have already received more than 50 NRA U requests for the 2011 spring semester—with almost half of the requests generated by our presence at CPAC!
If you know of, or happen to be, a college student who is tired of hearing misleading arguments from anti-gun activists; who longs for more balanced discussions and debates on campus; and who wants to help educate your classmates, then NRA University is for you!
For more information, please join NRA University on Facebook, visit the NRA University Home Page at www.nraila.org/nrau/, e-mail us at [email protected], or call us at 800-392-VOTE (8683).
About:
Established in 1871, the National Rifle Association is America's oldest civil rights and sportsmen's group. Four million members strong, NRA continues its mission to uphold Second Amendment rights and to advocate enforcement of existing laws against violent offenders to reduce crime. The Association remains the nation's leader in firearm education and training for law-abiding gun owners, law enforcement and the military. Visit: www.nra.org