Ruger Pistols & Rifles to be Featured in 3-Gun Nation Shoot-Offs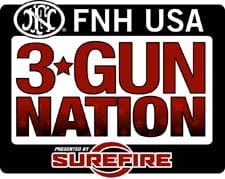 USA –-(Ammoland.com)- 3-Gun Nation reached an agreement with Sturm, Ruger recently that will position the company's firearms in select 3GN Shoot-Offs throughout the 2011 3GN Tour.
The partnership will position Ruger firmly in the 3-Gun Nation family of supporters, while establishing increased variety in firearm platforms for the competitors in the 3-Gun Nation Shoot-Offs.
"Ruger is excited to be a part of the 3GN Tour," said Ken Jorgensen, Director of Media Relations, Sturm, Ruger. "We support competitive shooting and love seeing new shooters get involved in the sport. With recent product introductions like the SR-556 autoloading rifle and the SR9 and SR40 pistols, Ruger is producing rugged, reliable firearms that will give any 3-gun shooter a competitive edge. As our product line continues to grow, we hope to see more and more 3-gun shooters using Ruger firearms."
Two Ruger semi-automatic pistols will used in 3GN Shoot-Offs, the SR9 and SR40. Also, 3GN competitors will get a chance to run the piston-driven SR-556 semi-automatic rifle.
"We are extremely excited to have Ruger part of the 3-Gun Nation Tour," said Pete Brown, President, National 3-Gun Association. "And we think the competitors will be as well, as the top lady, junior and professional shooters get a chance to run these guns in the 3GN competitions."
Ruger pistols and rifles will be used at various events throughout the season, including the 3GN Team Event, Lady and Junior Shoot-Offs at the 3GN Championships, as well as select 3GN Shoot-Off main events.
"Ruger is one of a very few quintessential firearm companies," said Chad Adams, Vice President, N3GA. "Adding Ruger to our family of supporters not only helps us keep 3-Gun Nation going, but it further reinforces the growth of 3-gun."
The next stop on the 2011 FNH USA 3-Gun Nation Tour, presented by SureFire, is the Superstition Mountain Mystery 3-Gun, March 25-27, in Mesa, Ariz. For more information on 3-Gun Nation events, and everything related to 3-gun, go to www.3gunnation.com.
For more information, visit www.3GunNation.com.