Steve Lockwood of Gladwin County Named 2010 Conservation Officer of the Year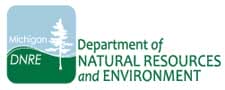 Michigan –-(Ammoland.com)- Department of Natural Resources and Environment Conservation Officer Steve Lockwood was recognized as the 2010 Conservation Officer of the Year at last week's Natural Resources Commission meeting in Lansing.
The Shikar-Safari Club International, a wildlife conservation organization, honors one Michigan officer with this award each year.
"Steve is an outstanding all-around officer, a leader among his peers with a work ethic second to none," said DNRE Law Enforcement Division Chief Gary Hagler. "Steve sets the bar high for himself, prompting fellow officers to follow his lead, and at the same time will go out of his way to assist a colleague."
An 11-year veteran of the DNRE's Law Enforcement Division, Lockwood has spent his entire career in Gladwin County, where he has developed an outstanding working relationship with other law enforcement agencies. In addition to his regular duties, he serves as a field training officer and a first aid instructor for the division. He was selected the Gladwin County Crimestoppers Officer of the Year two years in a row in 2006-2007.
Lockwood plays an active role in the local community, serving as a volunteer member of the countywide dive team and participating in hunter safety classes and kids' day events at local sporting clubs.
Hagler said that among the positive impacts of Lockwood's diligent efforts as a conservation officer, he has helped make local campgrounds quieter, safer places for families to enjoy the outdoors and protected state land from illegal activity such as marijuana growing operations – including finding and helping shut down the largest such operation ever located in Michigan, totaling over 4,000 marijuana plants with a street value of over $4 million. Lockwood's investigation of a boat collision in which the suspect caused a death and fled the scene was instrumental in effecting a law change that made it a felony to leave the scene of a fatal boating accident.
"Fish and wildlife poaching investigations are what Steve excels at the most," said Hagler, noting one case where Lockwood's determined investigation uncovered a local poaching ring with four suspects and 13 different illegally killed deer. "He travels the extra mile when it comes to a poaching investigation and leaves no stone unturned."
Founded in 1952 as a way to advance the knowledge of wildlife worldwide, Shikar Safari Club International works to enhance and preserve wildlife, and has placed particular emphasis on endangered and threatened species through the promotion of enforcement of conservation laws and regulations.
The Department of Natural Resources and Environment is committed to the conservation, protection, management, and accessible use and enjoyment of the state's environment, natural resources and related economic interests for current and future generations. Learn more at www.michigan.gov/dnre.