Utah Knife Law Preemption Bill Signed by Governor
Utah Preemption Bill Signed.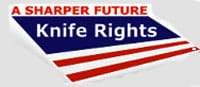 Gilbert, AZ –-(Ammoland.com)- Utah Governor Gary R. Herbert has signed the Knife Rights backed Knife Law Preemption Bill, HB 271, making Utah the nation's second state to enact Knife Law Preemption.
Knife Rights would like to thank the bill's chief sponsor, Representative Ryan D. Wilcox and the Senate sponsor, Senator Allen M. Christensen, for their support.
Knife Rights appreciates Governor Herbert's signing the bill promptly. We'd also like to thank the Utah Shooting Sport Council for all their support during our lobbying effort.
Knife Rights Chairman, Doug Ritter, said, "we are very pleased to have Utah become the second state in the nation to pass Knife Law Preemption, helping to lead the way to a sharper future. Knife Rights' National Knife Law Preemption Campaign is now gaining momentum and this law is further proof that Knife Rights is leading the charge in legislative initiatives to decriminalize knife possession and improve or eliminate restrictive knife laws."
The bill becomes law 60 days after adjournment of the Legislature. You can read the text of the bill here: www.kniferights.org/hb0271.pdf
Knife Rights would like to offer our special thanks to Blade HQ of Lehi, Utah, for their financial support for this effort and for testifying in support of the bill at the Legislature. Knife Rights cannot pass legislation alone, we need the support of our members and the knife community to pay for lobbying and other expenses. Blade HQ not only support Knife Rights as a Corporate Member, but when the opportunity arose to move this legislation in Utah, they were was willing to step up and help make it a reality.
We urge you to support companies like Blade HQ that are helping to make a difference and protect or improve the law to benefit all knife owners.
Passing legislation such as this takes money, plain and simple. Help support out efforts to improve the laws for all knife owners. Please donate today to support Knife Rights: www.bit.ly/fMccv9
Join or Renew your Knife Rights membership today! www.bit.ly/2QEVMP
Doug Ritter Chairman / Executive Director Knife Rights, Inc. Knife Rights Foundation, Inc. www.KnifeRights.org Email:
[email protected]
About:
Knife Rights has quickly grown to become America's largest grassroots knife owners organization. Invest in a Sharper Future. Become a Knife Rights member and make a contribution to support the fight for your knife rights. Visit www.kniferights.org