Win a .25 Benjamin Marauder at NRAhuntersrights.org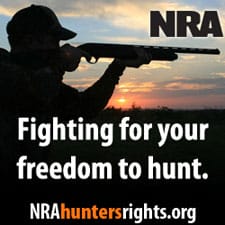 Fairfax, VA--(Ammoland.com)- FAIRFAX, Va.—During the month of April, visit www.NRAhuntersrights.org for a chance to win a .25 caliber Benjamin Marauder PCP air rifle and accessories.
Donated by the Crosman Corporation, this rifle is specially engraved with the NRA logo to help celebrate our Annual Meetings, April 29-May 1, 2011, in Pittsburgh, Pa.
If you think air guns are only appropriate for the smallest game at the shortest distances, the Benjamin Marauder will awaken you to new hunting possibilities. With its PCP (pre-charged pneumatic) power plant generating pellets up to 900 feet per second, it's fully capable in skilled hands of taking prairie dog- to fox-size game at or beyond 100 yards.
Designed to be used with a scope, the bolt-action Marauder features an eight-round, auto-indexing magazine, a two-stage, adjustable match trigger and a choked barrel to enhance accuracy. The hardwood stock has an ambidextrous raised comb and a ventilated rubber butt pad.
While all air guns are quiet, an internal barrel shroud on the Marauder keeps noise virtually stealth-like. Crosman's Laura Evans commented, "When you pull the two-stage match trigger on a Benjamin Marauder PCP hunting air rifle, the loudest sound you hear is the pellet hitting your quarry."
The Marauder operates using either compressed air or the CO2 Dual Fuel option. Hand pumps or scuba tanks may be used to supply power—up to 3,000 psi. (An easy-to-read gauge inset into the rifle's fore-end indicates the fill pressure.)
This NRA/Crosman Giveaway comes with the rifle, a 3-12×44 scope and mounts, air tank, hand pump and pellets—everything you need to power up and get shooting immediately.
The suggested retail price of the rifle, scope and accessories is $955.00.
TO ENTER the Benjamin Marauder Gift Giveaway, go to www.nrahuntersrights.org, scroll down to "Gift Giveaway" on the right side of the page, and follow the simple instructions. All you do is send an e-mail to the address provided, and type "Gift Giveaway" in the subject line. There is no cost to enter. Entries will be accepted between April 1 and April 30, 2011, and a winner will be announced May 1, 2011. Learn more about Crosman's other fine air guns and accessories at www.crosman.com.
If you are going to the NRA Annual Meetings in Pittsburgh, don't miss our first-ever special session on what NRA does for hunters. The session will be held at 2 p.m. Saturday, April 30 in Room 326 of the David L. Lawrence Convention Center. For more information, visit www.nraam.org/events/seminars.html.
About:
For the most up-to-date information about your hunting rights there's just one source: www.NRAhuntersrights.org.