Winchester Adds Varmint HE 3/1 Segmenting Bullet To Rimfire Ammunition Line-Up
East Alton, IL – -(Ammoland.com)- Winchester Ammunition continues to pioneer innovation and expand its rimfire offerings in 2011 by adding the Varmint HE 3/1 Segmenting expansion bullet to its rimfire hunting lineup.
The unique 3/1 segment design exclusive to Winchester, features a 37 gr plated HP fragmenting expansion bullet that delivers a blistering 1435 fps velocity, optimized for maximum accuracy.
The programmed hollow-point fragments include three forward segments, plus a solid rear core designed to provide explosive impact energy plus penetration.
In addition, the Varmint HE consists of non-corrosive priming and clean burning powder to generate a sure fire ignition every time.
"Without a doubt, Varmint HE ammunition provides explosive impact," said Brett Flaugher, vice president of sales and marketing for Winchester Ammunition.

"The 3/1 segmenting design makes this product truly innovative, but unlike other high energy bullets on the market, our new 3/1 fragmenting design allows initial impact shock, and deep penetration resulting in maximum terminal effect."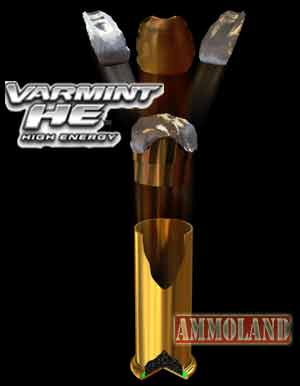 The new Varmint HE Bullet features:
* Velocity: 1435 fps
* Grains: 37 gr
* Bullet Type: 3/1 segmenting expansion bullet
* Cartridge: 22LR
* Availability: 2011
Winchester is Proud to be a Leader in the Shooting Sports
Winchester Ammunition pledged $500,000 to permanently endow the NRA's Marksmanship Qualification Program, thus becoming the exclusive sponsor of the officially renamed Winchester/NRA Marksmanship Qualification Program.
The Winchester/NRA Marksmanship Qualification Program is a self-paced shooting development program. Open to adults and youngsters alike, the program measures an individual's shooting proficiency against established par scores in 13 courses of fire across three disciplines: pistol, rifle and shotgun.
By supporting the Winchester/NRA Marksmanship Qualification Program, Winchester is providing everyone the chance to explore the benefits that hunting and the shooting sports have to offer. To learn more about the Winchester/NRA Marksmanship Qualification Program, please call 800-672-3888 ext. 1505or visit www.nrahq.org/youth.