Bear Trap Made In The 1880S, 44 Inches Long And Weighing 43 Lbs., Hits $3,491 In Internet And Catalog Auction Ended Mar. 19 By Soldusa.Com
The trap, sporting some wicked-looking teeth, was the second-top lot of the 1,700 items offered.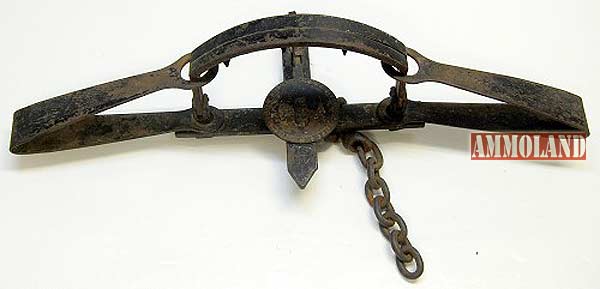 MATTHEWS, NC –-(Ammoland.com)- A vintage Oneida Newhouse No. 6 bear trap, made in the 1880s and weighing a whopping 43 pounds, with three wicked-looking teeth mounted on each massive jaw, sold for $3,491 in an Internet and catalog auction that went online in February and ended March 19 by SoldUSA.com, the hunting and fishing collectibles and militaria auction website.
The trap still had its original anchor chain – also heavy and massive – and a slickpan with raised letters that read, "S. Newhouse Oneida Community, N.Y.," with "No. 6" in the center. The trap folded up for storage and was an impressive 44 inches when fully opened out. It still had a good deal of the original black paint and the rest showed old surface rust that patina'd out well.
"We got this bear trap in about a week before the sale ended," said David Reichle of SoldUSA.com. "That's too bad, because I believe if more people had known about it for a longer time, it could have brought $5,000 or more. What a piece. It was found in an abandoned house in Colorado by the consignor, who called us looking to sell."
The trap was one of about 1,700 lots that changed hands in an auction that featured ammo (600 lots), guns (50 lots), militaria (350 lots), advertising items (50 lots), and coins (50 lots, all silver and copper). The auction attracted over 25,000 registered online bidders, from as far away as Australia, New Zealand, France and Canada. Phone, fax and absentee bidding was also brisk.
"I really do believe the economy is picking up," Mr. Reichle observed. "This was easily the most active auction of the last three we've held, and bidding was spirited across the board. I just came back from the Wannamaker's Gun Show in Tulsa, and that place was jammed with gun enthusiasts and fans of militaria. You'd never have guessed there's a recession going on."
Following are additional highlights from the auction. All prices quoted include a 13 percent buyer's premium.
The top lot of the sale was a gorgeous and quite stunning fancy double eagle coin necklace in a coronet setting, the centerpiece of which was a rare U.S. $20 gold coin set in 14kt gold. The coin was flanked by 43 diamonds, totaling 2.03 carats. The necklace even had a nice storage pouch, as well as a dated jeweler's appraisal sheet. A determined bidder paid $3,995.
An early Colt 2nd model new line .22 caliber pocket revolver, made sometime between 1873 and 1884 and having 99 percent of of the original nickel plate and genuine elephant ivory grips, hammered for $1,068. The weapon was serial #4559 (proving it was an early production model) and it boasted nearly all of the fire blue on the hammer, trigger, cylinder, pin and barrel.
Ammo boxes are hugely collectible, and this sale had some wonderful examples. An original, unopened 50-count box of Winchester model 1873 .44 caliber cartridges (two-piece, fully sealed, with the correct green box top) breezed to $564; while a full brick of Remington Kleanbore .22 caliber Winchester shells, showing considerable shelf wear, still realized $535.
Anything with the name Winchester on it does consistently well. An outdoor metal sign reading, "Winchester Rifles, Shot Guns and Ammunition," beautifully framed and matted, 10 inches by 13.5 inches, brought $565; and a hard-to-find Winchester referee's whistle (No. 1806), nickel plated, on a 14-inch chain and still with the original cork ball inside, topped out at $283.
Pistols were offered in abundance. A Winchester model 363 single-shot target pistol, still in the original box (serial #043157), caliber 4.5mm/.177, hit the mark for $481; a mid-1880s Pepperbox bar hammer 6-shot pistol with rotating 3-inch barrel, .31 caliber, coasted to $398; and an Allen & Thurber bar hammer ladies' muff pistol with screw-on barrel, .36 caliber, made $344.
Rounding out the sale's top lots: an original muster and payroll document for Company H, 41st Georgia Volunteer Infantry, for Dec. 31, 1862 through Feb. 28, 1863, with detailed listings of 52 officers and men in the company, with all their signatures, went for $386; and a World War I M1917 bolo knife (Plumb Mfg., Phila., 1918), with wood scabbard, sold for $208.
SoldUSA.com's next big auction is already online and concludes May 21. Featured are hundreds of lots of ammunition, militaria, advertising items (to include a 1948 Coca-Cola Art Deco-style wall clock), coins and ephemera, to include calendars and posters. The paper items have been photographed in normal conditions and with a black light, to show their restoration.
To learn more about SoldUSA.com and the auction slated to end May 21, please log on to www.SoldUSA.com. The firm is always looking for quality consignments for future sales. To consign a single item or an entire collection, you may call them at (704) 815-1500, or you can e-mail them at [email protected] For more information, log on to www.SoldUSA.com.