3 Gun Nation (3GN) Divisional Championships
New 3GN Points Race Awards Consistent Performance at 3GN-Affiliated Events.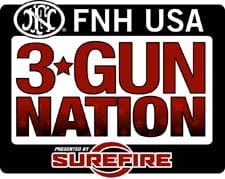 USA –-(Ammoland.com)- 3-Gun Nation reached an agreement recently with Hornady Ammunition to establish a series of cash prizes, totaling $25,000, based on the full season of 3GN-affliated matches.
The 3-Gun Nation Divisional Championships will award cash payouts to the top shooters in the most recognized divisions.
Competitors from the following divisions are eligible: Tactical Optics, Limited (Tactical Irons), Open, Heavy Metal and Heavy Metal Optics. The top shooter in each division will win a check from Hornady for $5,000.
"Hornady is committed to all disciplines of the shooting sports, and looks to further interest throughout all shooting disciplines," said Neil Davies, Marketing Director, Hornady.

"Continually looking to incentivize participation in the shooting sports, Hornady has committed to sponsor the 3GN Divisional Championships in order to continue to foster excellence in competition in the fast-paced, action-packed shooting sport that is 3-gun."
Affiliated matches for the 2011 season include: 2010 Adams Arms Ozark 3-Gun Championship, 2010 Fort Benning 3-Gun Challenge, Superstition Mountain Mystery 3-Gun, DPMS-Bushnell Blue Ridge Mountain 3-Gun, MGM Ironman, JP Enterprises Rocky Mountain 3-Gun, AFCOM-Rockcastle Pro Am, 2011 Adams Arms Ozark 3-Gun Championship, USPSA Multi-Gun Championships, and the FNH USA Championships.
To earn 3GN Divisional Championship points, competitors must earn a valid score from a minimum of three, 3GN-affiliated matches. A competitor's top three scores from within any one division will count toward 3GN Divisional points. In the event of a tie, scores earned in the final qualifying event, the FNH USA Championships, will be used to break any and all ties.
After giving away $65,000 in 2010, the 3GN Divisional Championships, presented by Hornady, raises the prizes for the 2011 season to more than $125,000, including approximately $20,000 exclusively for junior and lady competitors, as well as the $25,000 grand prize to the 2011 3GN Champion, provided by Leupold Tactical Optics.
The FNH USA 3-Gun Nation Tour, Presented by SureFire, is made possible though the contributions of FNH USA, SureFire, Federal, NSSF, Cheaper Than Dirt, Stag Arms, Leupold Tactical Optics, Ruger, Otis Technology and MGM Targets; and in part by Hornday, Blackhawk, Weaver Optics, Barrett Rifles, Pelican Cases, Brownells, Truck Vault, Vortex, Warne, Safariland, Timney Triggers, Adams Arms, Samson Manufacturing and AP Customs.
The next stop on the 2011 3GN Tour is the DPMS-Bushnell Blue Ridge Mountain 3-Gun, April 29-May 1, at the Rockcastle Shooting Center in Park City, Kent. Blue Ridge, a 3GN-points match, will be the fourth of 10 3GN-affiliated matches on this year's 3GN Tour.