Burris Introduces New Fullfield E1 Riflescopes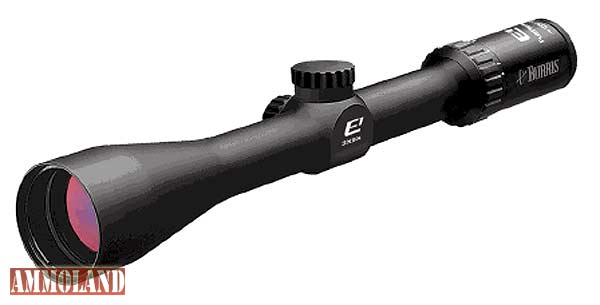 GREELEY, Colo. –-(Ammoland.com)- Burris has announced the introduction of its new Fullfield E1 Riflescope line.
Retaining popular features of the Fullfield II riflescopes, the new E1 line offers a sleek profile with upgraded ergonomic windage/elevation knobs, a matching power ring and an eyepiece that accepts flip-up lens caps.
Precision and accuracy of the new Fullfield E1 scope line has been enhanced with the addition of the Burris Ballistic Plex E1 reticle.
Until now, this proprietary wind-compensating reticle has only been available on the Burris premium SixX scope line. Now featured in the Fullfield E1 Series, the Ballistic Plex E1 etched reticle provides a simple, uncluttered method for determining both trajectory and wind compensation.
The reticle is a series of cascading .25 MOA dots to the left and right of the reticle that help compensate for crosswinds. The dots represent bullet drift from a 10 mph crosswind (+/- 1.5 inches at 400 yards) for most hunting cartridges. For a 5 mph crosswind, halve the distance between dot and reticle. Likewise, for 20 mph crosswind, simply double the distance.
Internally, the new Fullfield E1 scopes feature precision ground lenses that are larger than the lenses comparable scopes for better light transmission. The lenses are index-matched with Burris HiLume Storm multi-coatings. The Fullfield E1 Series also feature double erector springs and positive steel-on-steel adjustments for repeatable accuracy.
Available at retailers nationwide, the new Burris Fullfield E1 riflescopes will retail for: 2-7x35mm $179; 3-9x40mm $199; 3-9x50mm $299; 4.5-14x42mm $349.
Be sure to stop by the Burris/Steiner booth (#2023) at the NRA Annual Meetings and Exhibits in Pittsburgh, Apr. 29 to May 1, to see these scopes and other world-class optics.
Founded in 1972 and headquartered in Greeley, Colorado, the Burris Company offers a complete line of premium sports optics which includes riflescopes for hunting and competition, handgun scopes, binoculars, spotting scopes, mounts and accessories. For more information, write to the Burris Company, 920 54th Avenue, Ste. 200, Greeley, CO 80634. For detailed product information, visit the company website at www.burrisoptics.com.